Personality: Amy Black
Spotlight on founder of nonprofit Pink Ink Fund
10/12/2017, 11:51 p.m.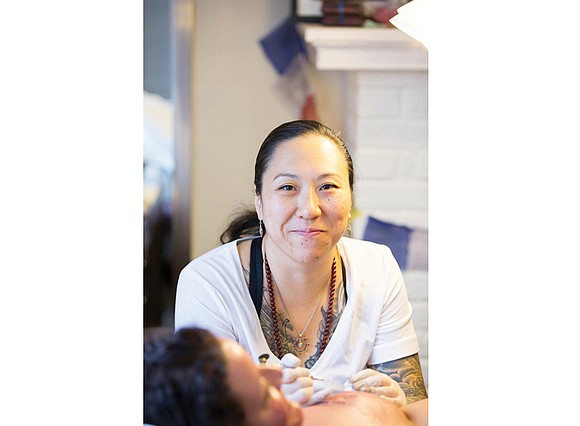 Women seeking pigmentation show a range of emotions, "from really excited, happy or nervous, but all of them are ready to get the art done," Ms. Black says.
One of Pink Ink's goals is to make sure that women and men are not blocked from getting the artwork that will ultimately help them through the treatment and healing process, says Ms. Black.
Repigmentation tattooing, which reintroduces color into the nipple or areola, is a part of post mastectomy options for patients and is accepted by insurance companies. However, the option may be costly for people without medical insurance.
"Insurance coverage for tattooing varies from company to company," says Ms. Black. "While some insurers will fully or partially reimburse patients, if repigmentation is done by a medical provider, others will not reimburse patients if the repigmentation tattoos are done outside of a medical provider like Pink Ink."
The tattoo nipples are flat, but a skilled tattoo artist can make them look three-dimensional. Costs average between $600 to $800. Patients may apply for funding from Pink Ink and receive a one-time allocation of $250 to help cover the tattooing or cover costs associated with the procedure, says Ms. Black. In Richmond, the RVA Beard League, which hosts beard and mustache competitions to raise money for local charities and organizations, has raised more than $24,000 for Pink Ink.
Other organizations throughout the country also support Pink Ink monetarily. "A group of ladies running a comic book store in the Midwest are doing an October fundraiser, and a Las Vegas group of tattoo removal ladies are doing a T-shirt fundraiser," says Ms. Black. "Both are giving all of the proceeds to Pink Ink."
Meet this week's Personality, breast cancer awareness advocate and tattoo artist Amy Black:
Occupation: Owner/operator Amy Black Tattoos, founder/ president of Pink Ink Fund.
What I do: Tattooing and running my charity for mastectomy tattoos for breast cancer survivors. I work a lot, but I also take a lot of breaks.
Date and place of birth: Jan. 10, 1975, in Seoul, Korea.
Current residence: Richmond.
Education: High school, some college, a lot of life school!
Family: In a relationship, no children.
A tattoo is: One of the main catalysts and subject matters in my life, it became my passion before learning to tattoo, and remains my passion to share it with others.
Types of tattoos: I do an eclectic range of styles, nature, insects, science, space, dragons, tigers, nipples, flowers, engines, realistic, stylized, etc.
How long has tattooing existed: Since prehistoric times.
Pink Ink's mission: To give short-term financial aid to breast cancer survivors and help patients get the mastectomy tattoos they desire.
How the idea originated: I wasn't sure if insurance would cover someone if they went to a tattoo artist versus a medical provider for the tattooing. I didn't want anyone to be denied getting the tattooing that they desired — as a way to heal from breast cancer — because of money being a hurdle.
Inspiration for its name: Pink being the color for the breast cancer ribbon, and then Ink because of its specific focus on the "inking" of the recipients!