Arts activist Lorna Pinckney is mourned at 43
10/13/2017, 12:10 a.m.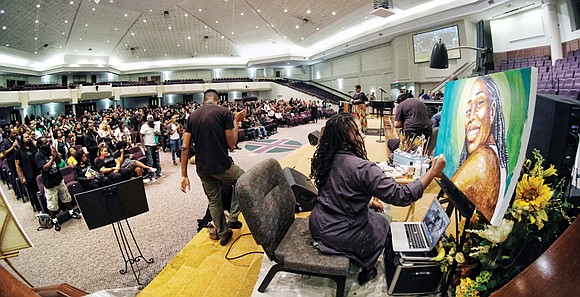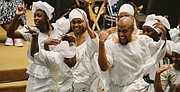 Lorna Pinckney was a driving force in creating Richmond's vibrant cultural scene.
For 15 years, she brought poets, musicians and others together for lively performances of spoken word and new music in programs she dubbed Tuesday Verses and held in restaurant settings.
"Lorna created a space where artists could be free to be themselves," said Enjoli Moon, founder and director of the Afrikana Film Festival.
Described as a determined, compassionate person who sought to empower others, Ms. Pinckney's contributions to Richmond are being remembered following her death on Oct. 5, 2017. She was 43.

Family and friends paid final tributes to the Brooklyn, N.Y., native Tuesday, Oct. 10, at St. Paul's Baptist Church, 4247 Creighton Road. Ms. Pinckney also will be remembered at the Tuesday Verses 15th anniversary celebration 7 p.m. Saturday, Oct. 14, at The Canal Club, 1545 E. Cary St.
Numerous Facebook posts reflect the feelings of those who knew her and are mourning her death.

Artist Hamilton Glass wrote, "RVA just lost a true creative force! RIP Lorna Pinckney! You will be missed."
Sherri Mehta recalled in her post the warm atmosphere that Ms. Pinckney developed at Tuesday Verses. "If you went to Verses alone, you left with a new friend … or several. Because that was Lorna."
Her life in the arts began in her hometown where she studied at several specialty arts programs throughout high school. She came to Richmond to attend Virginia Union University then Virginia Commonwealth University's arts program, and quickly learned there was little to do for people ages 19 to 35 seeking an alternative to the bar scene.
After graduating from VCU in 1998, she began working with people like Iman Shabazz on creating programming space for performances.
She began at The Soul Kitchen at the former John Marshall Hotel on 101 N. 5th St., and later relocated to Tropical Soul in Jackson Ward, where she began Tuesday Verses in 2002.
The program later found a permanent home at the Addis Ethiopian Restaurant in Shockoe Bottom.
Ms. Pinckney found pleasure and success in exposing city residents to a wider range of artists while creating a sense of community among participants.
In 2010, she launched Wednesday Verses in Washington after seeing numerous commuters from Washington come to the Richmond program.
Ms. Pinckney embraced her adopted city and the people in it. For those who knew her, she was seen as a "guiding light" who never disparaged others, but only sought to make Richmond a better place.