Personality: Timika Cousins
Spotlight on founder of The Faces Behind The Purpose For You
10/19/2017, 6:05 p.m.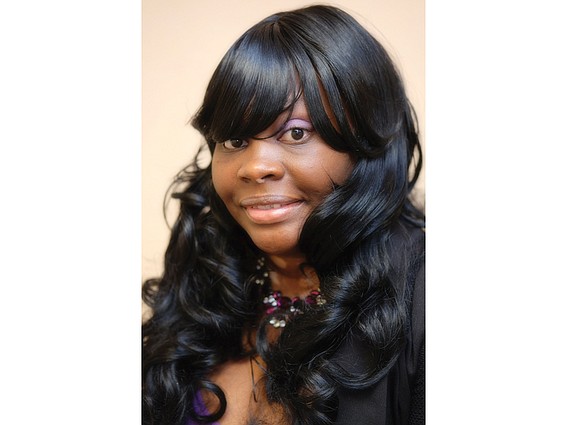 Personal tragedy led Timika Cousins to become an advocate against domestic violence after her beloved cousin was murdered by an abusive husband in 2014.
"My cousin was always a happy-go-lucky person," says Ms. Cousins. "She did not tell us what she was going through so we did not know what was taking place in her home life. I was in shock and terrified after her death. Then it became my calling and in my spirit to speak out and educate my community about domestic violence. I wanted to understand the many ways domestic violence can show up in relationships."
Ms. Cousins' concern — and compassion — led her to create The Faces Behind The Purpose For You, an organization that supports victims of domestic violence. Two months after the organization was formed in August 2016, Ms. Cousins presented "Slay for a Purpose Fashion Show" to raise awareness and funds to support these victims.
Armed with the success of last year's show, which sold out and attracted about 200 people, Ms. Cousins is excited about this year's show on Saturday, Oct. 28.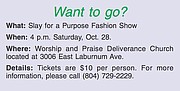 "Some of our models are victims of abuse and we do a makeover for them," says Ms. Cousins. "We show them, through fashion, that they are beautiful and they are still somebody."
The event, which takes place during Domestic Violence Awareness Month, will provide more than fashion and entertainment, says Ms. Cousins. It also will be informative and uphold her organization's mission to educate others about domestic violence and its effect on individuals and families "in every community, regardless of age, economic status, sexual orientation, gender, race or nationality."
Abuse comes in many forms, including emotional, psychological, financial, sexual, physical and spiritual, says Ms. Cousins. Abusers employ various methods to exert power and control over their victims.
"Abuse happens to men, women, siblings and in friendships, and it's important to note that domestic violence doesn't always manifest in one specific way, but comes in a lot of signs and layers," says Ms. Cousins.
"I tell people to put your relationship on a trial basis. Take time to get to know each other better. Ask questions. Find out about the person's background. Take note of abusive signs — pushing, fighting, hitting, harsh language or being defensive."
Combating abusive power and control isn't easy, which leads the organization's outreach director and volunteers to enter high-risk communities to conduct awareness workshops, advocacy and training for people involved in domestic disputes and violence.
"Our programs include one-on-one mentoring, tutoring, financial counseling — showing people how to save money in order to get out of their situation where they are solely dependent on the abuser," says Ms. Cousins.
Résumé-building services and job-seeking strategies for victims in need of employment are also provided. "The key is to build victims' self-esteem, and we educate them about the red flags of abuse through scenarios about the signs and layers of abuse," she says. "It's easy for someone to tell you to leave or just go, but it's not that easy when you are in that situation."