3 vying for city treasurer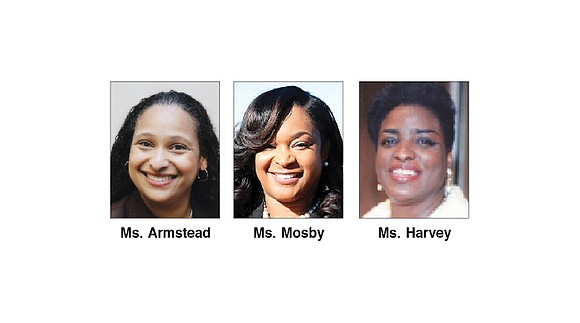 City treasurer is an office with a big name, but little to do in Richmond.
With City Hall's finance department in charge of collecting and paying taxes, the treasurer has been left to sell hunting and fishing licenses, pay Richmond jurors, notarize legal papers, help people fill out tax forms and collect overdue state taxes.
While it is unclear why the elected position continues to exist, three people are battling to succeed Treasurer Eunice M. Wilder, who is retiring from the office after nearly 25 years.
The front-runner for the job that has an annual salary of about $93,000 is Nichole Richardson Armstead, a management consultant and daughter of former Richmond City Councilman Chuck Richardson.
Ms. Armstead won the Democratic primary in June, but now faces independent challenges from two former City Council members, Michelle R. Mosby and L. Shirley Harvey in the general election.
If she wins on Election Day, Ms. Armstead said she wants to make the office a center for financial literacy education.
Among other things, she would offer education and tools to help adults learn how to budget and manage debt and would seek to educate young people about money management.
She also wants to help with job searches and do more to assist residents and businesses that are behind in city tax payments in their efforts to deal with city collection efforts.
Ms. Mosby, who served as City Council president during her lone term on the governing body and ran unsuccessfully for mayor last year, also has plans to energize the office.
If elected, she has promised to turn the office into an ombudsman-style operation that would offer help to citizens in navigating the city bureaucracy and in advocating for improved services. She also plans to open satellite offices to improve access to services.
Ms. Harvey, who lost to Ms. Wilder in an earlier bid for treasurer in 2013, plans to use the office as a platform to advocate for citizens.