Thousands join 1,000 Ministers March for Justice in D.C.
9/1/2017, 9:40 a.m.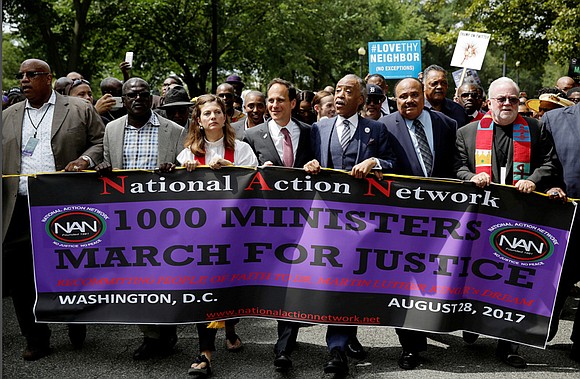 Rev. Wallis added that President Trump should repent for pardoning former Sheriff Joe Arpaio of Maricopa County, Ariz., who was convicted of criminal contempt for his treatment of undocumented immigrants.
The interfaith crowd took part in a call-and-response conversation with speakers who urged them to sing, recite Scripture and high-five each other in displays of unity.
"Let me tell all the white supremacists and KKK and everybody that America is a multifaith country — Do you all agree?" said Sikh leader Rajwant Singh, who was greeted by cheers. "America belongs to all of us."
Rabbi Jonah Dov Pesner, director of the Religious Action Center of Reform Judaism, recalled that Jews marched 5,000 years ago "out of Pharaoh's slavery and bondage in Egypt."
"And we know today that we do have the power to break the bondage of the modern pharaoh," he said.
The National Action Network, a predominantly black, Christian organization, also was an organizer of a 50th anniversary commemoration of the March on Washington that was held in 2013 and drew throngs to the National Mall to remember the event where Dr. King delivered his famous "I Have a Dream" speech.
Monday's march originally focused on clergy but some groups encouraged all people of faith to attend.
Some clergy who have supported or advised President Trump gathered at the National Press Club instead and issued a statement about the need for the government and religious officials to do more to bridge racial divides.
"Naturally, we need government, business, law enforcement and community stakeholders to partner with us," their statement read. "The glue that will keep our nation together, though, is the church and faith leaders."