Young writer has winning way with words
9/8/2017, 12:20 a.m.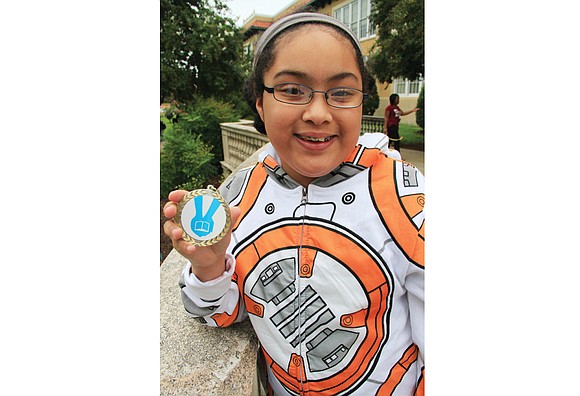 By Ronald Carrington
After reading Margot Lee Shetterly's book, "Hidden Figures," about African-American women mathematicians at NASA who did many of the calculations to put astronauts in space, 11-year-old Isla Rodriguez of Richmond now wants to be an astronaut.
But the sixth-grader at Albert H. Hill Middle School also has another calling — writing.
Her essay about the book and its influence on her won the 2nd Place Grand Prize in the Library of Congress' 2017 "A Book That Shaped Me" Summer Writing Contest.
Isla's essay beat out more than 300 entries in the Mid-Atlantic competition to win the national award.
This is her second year — and second victory — entering the writing contest. Last year, she was named the Library of Congress' Virginia winner with an essay she wrote on the trilogy "March" by civil rights icon and U.S. Rep. John Lewis of Georgia.
"Writing feels natural," Isla told the Free Press in an interview Monday at the North Side home of her parents, Enrique and Holly Rodriguez. Her mother was a freelance writer recently for the Richmond Free Press.
She said the book had a profound impact on her future plans.
"I think that one day I can help continue what Katherine G. Johnson, Dorothy Vaughan and Mary Jackson started at NASA," Isla said. "I just want to continue their greatness."
Isla submitted her essay to the contest for rising fifth- and sixth-graders through Richmond Public Library's Ginter Park Branch.
The awards were presented Saturday, Sept. 2, at the Walter E. Washington Convention Center in Washington.
Finding out that she was a winner was a surprise.
"My mom and I were driving back from my grandparents and she told me that I won second place," Isla recalled, eyes twinkling a smile. "I was drinking something and I literally started choking on it because I was screaming."
"In the beginning, Isla wasn't sure she wanted to do the contest this year," said Mrs. Rodriguez. "When you're in sixth grade and its summer vacation, you want to be on vacation."
But mother and daughter came to a meeting of the minds and wound up reading the book together, with Isla finishing first.
As the mother-daughter team read, they had discussions about the book, started a small book club about "Hidden Figures" and held Facebook Live events about it with other readers.
"During the Facebook Live events, we talked about 'hidden figures' in our own lives such as my great-aunt, who is the vice president at Central Virginia Community College, and my grandmother, who worked 25 years for the U.S. Department of Agriculture," Isla's mom said.
The contest surprised the Rodriguez family from start to finish.
The Library of Congress contacted the family on Friday, Sept. 1, and arranged for Ms. Shetterly, the book's author, to interview Isla on camera for the festival.
"To our amazement," said Mrs. Rodriguez, "we found out when we got to the Washington Convention Center that Isla was to read her essay to Ms. Shetterly, which she did."
Ms. Shetterly, she said, asked Isla, "Why do you like to write and how did you choose the book?"
Isla responded truthfully, "Well, my mom told me to read "Hidden Figures" and said, 'You're going to do the essay.' "
There was another surprise at the awards ceremony. Journalist and author Cokie Roberts, senior correspondent for National Public Radio and a frequent political commentator on ABC News public affairs programs, addressed the winners. During her remarks, Ms. Roberts asked if anyone knew who Benjamin Franklin was and what he was known for.
Isla was the only winner with a response. She said with a mischievous confidence, "Franklin 'discovered' electricity," she said, using air quotes, "and was the first postmaster."
The essay contest is part of the Library of Congress National Book Festival. Isla's efforts netted $250 in gift card prizes from the state and the national competitions.