Maggie Small to dance in 'Portrait of Billie'
Maggie Small is excited and honored to be portraying Billie Holiday in next week's opening show of the Richmond Ballet's new season.
To prepare for the role, the 31-year-old Richmond native has read as much as she can about the late jazz and blues singer whose troubled life inspired late choreographer John Butler to create "Portrait of Billie."
"I want to try to understand her as much as I can and bring that to my performance," said Ms. Small, a professional dancer with the company for 14 years.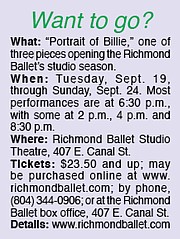 Ms. Small will share the role with fellow dancer Elena Bello, who will perform in several of the nine performances to be offered Tuesday, Sept. 19, through Sunday, Sept. 24.
The dance includes Mr. Butler's trademark elements — a blending of ballet and innovative modern dance and dramatic storytelling that also provides starring roles for African-American performers.

The dance seeks to bring Billie Holiday to life with portrayals of her public glory and her private demons. A soundtrack of her voice plays along with the dance.
Done in four parts, the dance includes two solos and two pas de deux. Ms. Small dances with Mate Szentes on the pas de deux, and Ms. Bello's partner is Matthew Frain.
Richmond Ballet artistic director Stoner Winslett has long championed Mr. Butler's works, most notably "Carmina Burana" and "After Eden." She is president of the John Butler Foundation.
As the Richmond Ballet marks its 60th year and 42nd year as a professional company, Ms. Winslett included "Portrait of Billie" as one of the three pieces to open the studio season.
She also is close friends with Carmen de Lavallade, for whom the role was created by Mr. Butler in 1959.
Ms. De Lavallade came to Richmond in mid-August to help prepare Ms. Small and Ms. Bello for the role.
"It was a thrill," said Ms. Small, who considers Ms. De Lavallade a role model who also inspired her as she was growing up.
The show also will feature the world premiere of "Winter's Angels," a new piece the Richmond Ballet commissioned from Ma Cong, the renowned modern choreographer born in China and now living in Tulsa, Okla. This is the fourth work he has offered in Richmond.
Also on the bill is a revival of the late George Blanchine's 1954 work "Tarantella."