'Racists go home!'
Members of Tenn.-based neo-Confederate group met by hundreds of chanting counterprotesters at Saturday's Monument Avenue rally
9/22/2017, 7:07 p.m.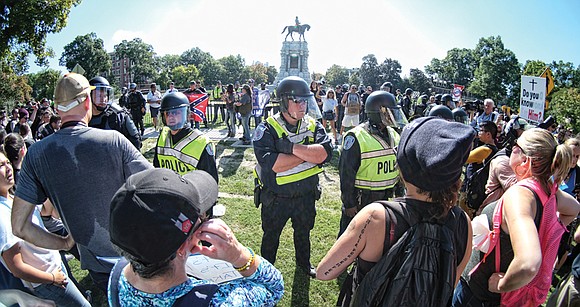 "I had no idea what to expect," said one resident on Saturday who wanted to remain anonymous. "I worried for my car. I worried for my property. I worried for my mother.
"I just want people to care about each other and property and Richmond," she continued. "It's a good city."
When it was over, she said she was confused still about what rally organizers expected to achieve.
"I hate to think of the amount of money the city had to spend on police, fencing, trucks, and what was the outcome? Nothing's different."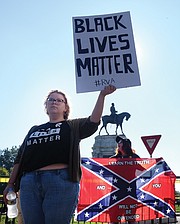 City officials said it will take days before they can determine the cost of the rally to city taxpayers.
The day before the rally, the ACLU of Virginia urged officers to use restraint and proportional response while simultaneously balancing demonstrators' First Amendment rights.
At the rally's conclusion Saturday afternoon, the ACLU was among many pleased with law enforcement's performance. Mayor Levar M. Stoney and Chief Durham also were pleased.
"The Richmond Police Department did a nice job of policing the event, ensuring speakers got to speak, providing separation when necessary and making sure everyone was safe," said Bill Farrar, communications director for the ACLU of Virginia who was one of several legal observers at the rally.
One concern was State Police using covers over troopers' name tags during the rally.
"We strongly object to that practice," Mr. Farrar said Tuesday. "Any member of the public should be able to identify quickly any member of law enforcement who is policing them."
He also noted the incongruity of State Police concealing their identities at the same time people were arrested for obscuring their identities with masks.
"We find that to be a little difficult to swallow."
Mr. Farrar said it is unclear whether such action of police covering their name tags is a violation of law or State Police protocol. But it's a bad practice, he said.
"It doesn't do anything to enhance public trust in law enforcement and we strongly discourage it." 
Saraya Wintersmith contributed to this report.
Counterprotesters stand united for racial justice
By Leah Hobbs
Today's racial inequities are rooted in the history of the Confederacy, and Richmonders must take ownership of that history, Adria Scharf, director of the Richmond Peace Education Center, told several hundred counterprotesters gathered Saturday at the Maggie L. Walker statue on Broad Street in Downtown.
"We have to name that truthfully, apologize and make amends today," she told the crowd.
"Today we stand united in the former capital of the Confederacy and there's no going back."
The gathering, "Richmond Stands United for Racial Justice," was organized by the Richmond Peace Education Center to counterbalance the "Heritage Not Hate" rally led by CSA II: The New Confederate States of America in support of keeping the statues of Confederates on Monument Avenue.
Ms. Scharf said the nation is witnessing an awakening of white nationalism, but Richmond must embrace and celebrate the beautiful, rich diversity of the city.
The group chose to hold its rally at the new plaza and statue honoring Mrs. Walker, a Richmond native who, in 1903, became the first African-American woman to charter and operate a bank in the United States.