NSU president stepping down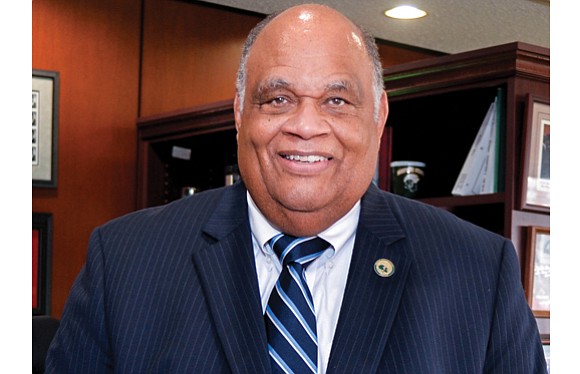 NORFOLK
Eddie N. Moore Jr. is stepping down as president of Norfolk State University, a year after he was inaugurated as the university's sixth president.
Rector Byron L. Cherry Sr. issued a letter Monday notifying staff, faculty and students that Mr. Moore is retiring from the post.
While Mr. Cherry, who chairs the NSU Board of Visitors, praised Mr. Moore for his "dedication and service," the Free Press has learned that the board and Mr. Moore were no longer on the same page and that his unexpected departure appears to have resulted from policy disagreements.
Mr. Moore, 70, was not immediately available for comment.
Mr. Moore, who is paid about $300,000 a year, provided a letter to the board earlier this month disclosing his plan to retire. The board held a special meeting Monday to formally accept his decision to step down.
The board and Mr. Moore are negotiating a "mutually agreeable transition date," Mr. Cherry stated in the letter. Other sources have indicated that Mr. Moore is expected to leave on or before Dec. 21.
A former state treasurer, Mr. Moore arrived at NSU in 2013 following 17 years as president of Virginia State University outside Petersburg and a stint as president of now-defunct Saint Paul's College in Lawrenceville, where he spent nearly a year trying to save the school from losing its accreditation.
In 2013, NSU brought Mr. Moore in as interim president as the university "was going through challenging times," Mr. Cherry stated.
When Mr. Moore arrived, the university's accrediting agency had placed NSU on probation for violation of its standards and the state was pummeling the school for a backlog of unperformed annual audits, Mr. Cherry stated.
Mr. Cherry credited Mr. Moore with providing "the necessary leadership" to end the internal financial problems and to restore NSU to good standing with the Southern Association of Colleges and Schools.
During Mr. Moore's tenure, "the university has seen promising improvement in its enrollment and in its student retention and graduation rates," Mr. Cherry stated.
He stated the board soon would name an interim president and would conduct a national search "to identify the right leader" to build on the school's accomplishments and fulfill its potential.