Remembering history
Member of 'Little Rock Nine' talks about his experience desegregating Central High School 60 years ago
9/29/2017, 6:38 a.m.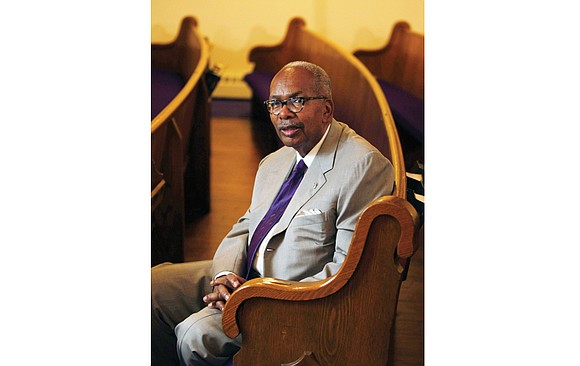 By Milbert O. Brown Jr.
On Sept. 25, 1957, Ernest Gideon Green and eight other African-American teens were escorted by federal troops past an angry white mob and climbed the front steps to enter Central High School in Little Rock, Ark.
The teens would forever become known as the "Little Rock Nine" for their courage in helping to tear down the walls of segregation in public schools in the United States.
In the 60 years since, generations of children — especially African-American students trapped in the snare of educational inequity — would follow the trail blazed by the nine beacons and be uplifted by the physical and emotional risks they took to illuminate pathways of opportunity.
Mr. Green, now 75 and a resident of Washington, D.C., reflected recently on his catapult into history and the Little Rock Nine's pioneering efforts in one of America's major civil rights confrontations.
After a year of fear at the overwhelmingly white school, Mr. Green would become Central High School's first African-American graduate in 1958. Decades later, in 1999, President Bill Clinton, an Arkansas native, presented Mr. Green and the other Little Rock Nine members with the Congressional Gold Medal, the nation's highest civilian honor.
At a ceremony Monday in Little Rock marking the anniversary, Mr. Green and the seven other surviving members of the Little Rock Nine were honored at the school, where former President Clinton and historian Henry Louis "Skip" Gates Jr. spoke.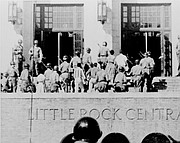 Next to the eight was an empty chair draped with a sash of gold and black, Central High School's colors, in honor of Jefferson Thomas, who died in 2010.
"I feel like I'm visiting a religious shrine," Dr. Gates said. "This is a shrine and these are the saints," he said, praising the nine for their courage in the face of angry mobs who opposed integration of the then all-white school.
In an interview, Mr. Green said the ugliness of the city where he grew up remains just beneath the surface.
"If you scratched Little Rock deep enough, racism comes out," he said.
Mr. Green hails from Little Rock's central district and skipped a grade early on in his education.
"If you came to the first grade and you could read, they bounced you on to the next grade," he said.

His mother was a schoolteacher and his father worked as a janitor at the post office. Mr. Green was the oldest of three children, but had to become a man faster than he would have wanted at 13 when his father died. Because of his mother's limited teaching income, Mr. Green took a job during the summer to help support the family.
"I worked at a Jewish country club because, in Little Rock, the other country clubs wouldn't accept anybody that wasn't a white Christian," he said. "I handed out towels, mopped the floors and kept the place reasonably clean."
A socially conscious student, Mr. Green said he was aware of the racial storm brewing across the nation.