Mixed feelings about Winnie Mandela
4/30/2018, 11:51 a.m.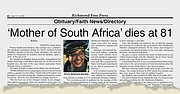 Re " 'Mother of South Africa' dies at 81," an obituary on Winnie Madikizela-Mandela, Free Press April 5-7 edition:
I have mixed feelings about Winnie Mandela. I remember her advocating a "death necklace" — a rubber tire filled with gasoline and a match struck — for her perceived enemies. I remember the criminal charges that were brought against her. I also remember the young man whose murdered body was found at or near her home, not to mention the harem of young men that she had. Nevertheless, she has her place in history. There are probably a lot of South Africans who have their freedom because of her participation in the "struggle."
Goodbye, Mrs. Mandela!
TRACYE JAMES
Chesterfield County