35th Annual National Night Out Tuesday, Aug. 7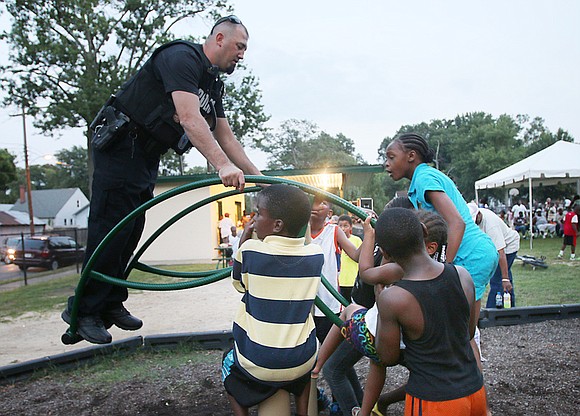 The Richmond Police Department is gearing up for the 35th Annual National Night Out on Tuesday, Aug. 7.
The event, which is observed across the country, is designed to promote safe neighborhoods while building police-community partnerships and relationships among neighbors.
Richmond Police will host a pre-event kickoff 10 a.m. to 1 p.m. Saturday, Aug. 4, at Target, 7101 Forest Hill Ave.
"We will be handing out crime prevention material as well as hot dogs and drinks," Lt. Victor Greene said.
All city residents are urged to participate in National Night Out. Neighborhood organizations and block party organizers can register their Aug. 7 event on the RPD website, www.richmondgov.com/Police/NationalNightOut.aspx, and a police care officer will attend to provide crime prevention materials and activities for children, Lt. Greene said.
"A strong partnership between the citizens and law enforcement is a powerful tool in fighting crime, which begins with building a sense of community," said Lt. Greene, a 25-year veteran with the department.
Neighborhood Housing Services of Richmond will hold a National Night Out/Back-to-School Drive 6 to 9 p.m. Tuesday at Pollard Park, 900 Brookland Park Blvd. Featured will be performances by John Doe, Yxung TK and TEK Emanuel, with appearances by Atlantic Records recording artist Brian Angel and Rap-Unzel, who was featured on the cable television show, "The Rap Game."
Organizers ask participants to bring school supplies for 800 backpacks it hopes to provide for city students.
The Six Points Innovation Center will display its interactive project on city planning and community assessment for the Highland Park neighborhood from 6 to 9 p.m. Tuesday at the center, 3001 Meadowbridge Road. The center will have games, food, dancing and a talent show, as well as listening booths and conversations about changes happening in the neighborhood.
Greenfield Residences at Monument Avenue will host their first National Night Out block party in front of their building, 501 N. Allen Ave., from 4:30 to 6 p.m. Tuesday. In addition to food and music, the event will feature information booths on senior health care and safety.
Lt. Greene said many of the crimes in Richmond are solved because of residents assisting with information.
"National Night Out is just one way of fulfilling the promise of giving neighborhood crime and drugs a going-away party, as well as continuing to strengthen healthy partnerships," he said.
For a list of National Night Out events in Richmond, go to www.richmondgov.com/Police/documents/2018NNOEventListing.pdf.