Richmond Police Department takes up #LipSyncChallenge
Samantha Willis | 8/2/2018, 6 a.m.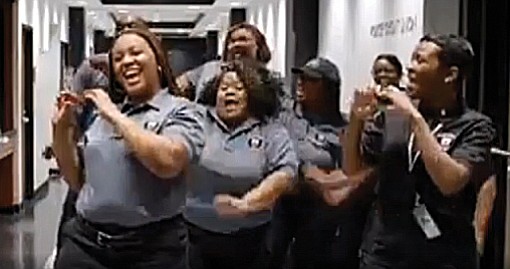 The Richmond Police Department wants to "see how big your brave is," they say — or rather, sing — in a new video racking up views on social media.
The "Richmond Police Lip Sync Challenge" is inspired by an online trend in which police officers, firefighters and ambulance workers dance as they lip sync to popular tunes.
The public relations craze, designed to show the "human side" of police and foster connections with the community, has gone nationwide as police and sheriffs departments across the country get creative and post their efforts on YouTube and social media.
Using its Facebook page, the Richmond Police Department invited Richmonders on July 26 to go to Brown's Island on the Downtown riverfront to take part in the video's filming. A diverse swath of the community — including children and elders, African-Americans and Caucasians — eagerly responded to the call, which encouraged them to show up and "be ready to dance!" 
"Our community came out with less than a few hours' notice because they wanted to be a part of it," Antoinette Archer, the department's human resources director, stated in an email to the Free Press.
The finished product, a nearly 4-minute video released last Friday, was a creative take on a recruitment campaign featuring not only RPD officers, but also dispatchers, Richmond Ambulance Authority personnel and firefighters. Set to singer Sara Bareilles chart-topping single "Brave," officers and citizens lip sync the lyrics and dance together in various locations around the city. 
Last week, Twitter user @RM2SteveG asked if Ms. Bareilles had seen the video. The Grammy-nominated songstress tweeted back: "I have now and oh my God I can't stop smiling. :)."
"You can be amazing," a young girl lip syncs at the start of the Richmond video, staring directly into the camera. She seems to be speaking to the community, the same community that inspired the department to create the video, Ms. Archer said. 
"Broadening the community's knowledge of our services and programs is always our goal," she said. 
Changing the public's perception of RPD was not the main point of the video, Ms. Archer said, but it did offer an opportunity for citizens to witness a different side of the police force. 
"We believe the Richmond Police Department is one of the most diverse, community-engaged departments in the country and we wanted to showcase that," she said.
Touted by her colleagues as the driving force behind the video, Ms. Archer is listed as a producer in the short video's credits. She said the public stoked the department's interest in participating in the lip sync challenge.
"Each time an agency created a video, we were tagged on social media over and over again," she said.
Richmond Police Chief Alfred Durham gave the green light, and soon after, the RPD team started production. Richmond-based companies assisted. Richard MacDonald of New Media Systems Inc. directed the video, with creative direction by David Neale of Fable Branding. 
Another Virginia police agency's effort won national attention. The Norfolk Police Department's #LipSyncChallenge video features officers singing and dancing to Bruno Mars' "Uptown Funk."
In early July, the Norfolk officers' video and one of its stars, Officer Christopher Taveras, appeared on NBC Nightly News, boosting an already overwhelming online response.
At press time Wednesday, the Norfolk police video had been viewed more than 72 million times.
The Richmond video has garnered more than 655,000 views.
Creating the video was a morale booster for the entire agency and a way to show appreciation for its employees and their daily efforts, Ms. Archer said.
"Working in public safety is an intense career choice for all of our employees, sworn and civilian. They deserve a moment to just breathe and have fun, too."
RPD now challenges Henrico County Police and Henrico County Fire Departments to accept the #LipSyncChallenge and create their own video.
See full video here:
https://www.youtube.com/watch?v=4zMDGyCQhdc