White nationalist rally sputters in D.C. on anniversary of bloody Charlottesville protest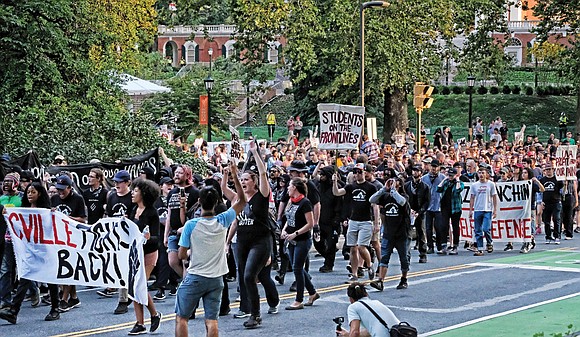 Sean Kratouil, 17, of Maryland, wore a vest with "Antifa" on the back. He said he was there to help start a movement of peaceful anti-fascists. He said he was concerned that when rallies turn violent, it makes his side look bad.
"Public perception is key," he said.
On Saturday in the picturesque college town of Charlottesville, hundreds of police officers maintained a security perimeter around the normally bustling downtown district throughout the day. Vehicular traffic was barred from an area of more than 15 city blocks, while pedestrians were allowed access at two checkpoints where officers examined bags for weapons.
But late in the day and Saturday evening, hundreds of U.Va. students and activists took to the streets. Many of the protesters directed their anger at the heavy police presence, with chants like "cops and Klan go hand in hand."
Local police and the Virginia State Police were harshly criticized for their failure to prevent the violence last year.
On Sunday morning, activist Grace Aheron, 27, donned a Black Lives Matter T-shirt and joined hundreds of fellow Charlottesville residents who gathered at Booker T. Washington Park to mark the anniversary of last year's bloodshed.
"We want to claim our streets back, claim our public space back, claim our city back," Ms. Aheron said at the park.
Charlottesville authorities said four people were arrested Sunday.