Funeral arrangements announced for 'Queen of Soul,' Aretha Franklin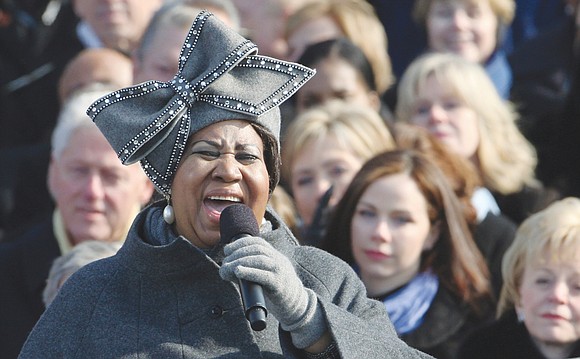 Aretha Franklin, the glorious "Queen of Soul" whose music became the backdrop for a generation and a theme song for both the civil rights and women's movement, will be laid to rest Friday, Aug. 31, at Woodlawn Cemetery in Detroit.
The beloved recording artist died at her Detroit home on Thursday, Aug. 16, 2018, after waging a quiet battle with pancreatic cancer. She was 76.
Her entombment at a family gravesite alongside her father, the Rev. C.L. Franklin, brother Cecil Franklin and sisters Carolyn and Erma Franklin will follow a two-day public viewing Tuesday, Aug. 28, and Wednesday, Aug. 29, at the Charles H. Wright Museum of African American History in Detroit, followed by a funeral on Thursday morning at Greater Grace Temple.
Attendance at the service will be limited to family and friends, relatives announced last week through a publicist.
Blissful on "(You Make Me Feel Like) a Natural Woman," despairing on "Ain't No Way" and up front on "Respect," few performers were so universally idolized by peers and critics as Ms. Franklin and so exalted and yet so familiar to their fans.
Ms. Franklin's fans couldn't get enough, nor could the music industry honor her enough. She won 18 Grammy Awards and, in 1987, became the first woman inducted into the Rock and Roll Hall of Fame.
But her status went beyond "artist" or "entertainer" to America's first singer, as if her very presence at state occasions was a kind of benediction. She performed "God Bless America" at the inauguration of President Carter in 1977, sang at pre-inaugural festivities for President Clinton in 1993 and at the dedication of the Martin Luther King Jr. Memorial in Washington.
President Clinton awarded Ms. Franklin the National Medal of Arts in 1999 and President George W. Bush awarded her the Presidential Medal of Freedom, the nation's highest civilian honor, in 2005.
But Ms. Franklin's best known appearance with a president was in January 2009 when she sang "My Country 'Tis of Thee" at President Obama's first inauguration. She wore a gray felt hat with a huge, Swarovski rhinestone-bordered bow that became an internet sensation and even had its own website.
In 2015, she brought President Obama and many others in the audience to tears with a triumphant performance of "Natural Woman" at a Kennedy Center tribute for the song's co-writer, Carole King.
Her voice transcended age, category and her own life.
Born March 25, 1942, in Memphis, Tenn., the talented preacher's daughter grew up in Detroit after moving there with her family from Buffalo, N.Y. It was at Detroit's New Bethel Baptist Church, where her father was pastor, that Ms. Franklin learned the gospel fundamentals that would make her a soul institution. She got her start as a singer touring with her father's gospel caravan when she was a teenager.
Rev. Franklin was among the most prominent Baptist ministers of his time. He recorded dozens of albums of sermons and music and knew such gospel stars as Marion Williams and Clara Ward, who mentored Ms. Franklin and her sisters Carolyn and Erma. Both sisters sang on Ms. Franklin's records, and Carolyn also wrote "Ain't No Way" and other songs for Ms. Franklin.