Funeral arrangements announced for 'Queen of Soul,' Aretha Franklin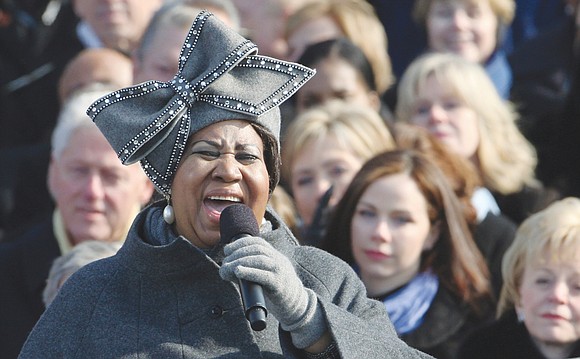 Music was the family business and performers from Sam Cooke to Lou Rawls were guests at the Franklin house. In the living room, the shy young Aretha awed friends with her playing on the grand piano.
Lifelong friend and musical compatriot Smokey Robinson said in an interview that he met Ms. Franklin when she was just 5 or 6 years old and heard her sing and play the piano "almost like she did as an adult."
In 1956, she released a gospel album through J-V-B Records. Four years later, she signed with Columbia Records, recording several albums and a handful of minor hits. Franklin knew Motown founder Berry Gordy Jr. and considered joining his label, but decided it was just a local company at the time.
Her breakthrough came in 1967, when she signed with Atlantic Records and was backed by the now famous Muscle Shoals rhythm section. She recorded the horn-led "Respect" with its "sock-it-to-me" chorus. It rocketed to become her first No. 1 hit and her eternal signature song.
Becoming an anthem for the civil rights and women's movements, the song was so profound that Ebony Magazine called 1967 the year of " 'Retha, Rap and Revolt."
"In black neighborhoods and white universities, in the clubs and on the charts, her hits came like cannonballs, blowing holes in the stylized bouffant and chiffon Motown sound," Gerri Hirshey wrote in "Nowhere to Run," a history of soul music that was published in 1984.
From 1967 to 1985, Ms. Franklin had 20 No. 1 hits — from "I Never Loved a Man (The Way I Love You)," "Chain of Fools," "Call Me" and "Bridge Over Troubled Water" to "Spanish Harlem," "Until You Come Back to Me," "Jump to It" and "Freeway of Love." She recorded more than 40 studio albums during her lifetime, the most recent, "A Brand New Me," released in 2017.
Ms. Franklin was named one of the 20 most important entertainers of the 20th century by Time magazine, which celebrated her "mezzo-soprano, the gospel growls, the throaty howls, the girlish vocal tickles, the swoops, the dives, the blue-sky high notes, the blue-sea low notes. Female vocalists don't get the credit as innovators that male instrumentalists do. They should. Franklin has mastered her instrument as surely as John Coltrane mastered his sax."
Ms. Franklin endured the exhausting grind of celebrity and personal troubles dating back to childhood. The mother of two boys by age 16 — she later had two more — she struggled with her weight, family problems and financial setbacks.
Her strained marriage in the 1960s to then-manager Ted White was widely believed to have inspired her performances on several songs, including "Since You've Been Gone," "Think" and "Ain't No Way."
Her second marriage, to actor Glynn Turman in 1978, also ended in divorce.
Producer Jerry Wexler nicknamed her "Our Lady of Mysterious Sorrows."
Since her death, Ms. Franklin has been lauded for her support of a variety of causes, including the Civil Rights Movement, AIDS research, Special Olympics, childhood diabetes research and anti-hunger initiatives. In addition to performing in support of advocacy organizations, Ms. Franklin also reportedly helped Dr. Martin Luther King Jr. meet payroll for the Southern Christian Leadership Conference when financial backing waned after he spoke in opposition to the Vietnam War.
Ms. Franklin's autobiography, "Aretha: From These Roots," came out in 1999. But she always made it clear that her story would continue, and that she would sing it.
"Music is my thing. It's who I am. I'm in it for the long run," she told The Associated Press in 2008. "I'll be around, singing, 'What you want, baby I got it,' having fun all the way."