RPS Shines! spiffs up schools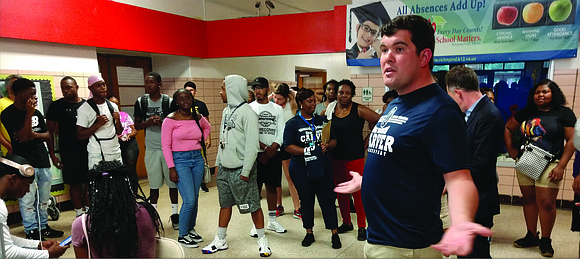 Several of the VCU students are a part of the university's ASPiRE program, Academic Scholars Program in Real Environments. It is a living-learning program for students to turn awareness into action.
The program partners with Carver Elementary.
"Our students are Carver Promise mentors and work as assistants in various classrooms," said Nannette Bailey, ASPiRE's community partnership coordinator. "It gives our students an opportunity to become engaged with their community and exposes Carver students to the university."
ASPiRE students are planning a back-to-school rally for the Carver students' first day at school, she said.
The Wooden family from Henrico County worked together on the school's second floor. They said they wanted to get involved in community service and do something positive for Richmond's schoolchildren.
The family included mom Stephanie Chow, son Zack Wooden, a freshman at the Maggie L. Walker Governor's School, and daughter Natalie Wooden, an 11-year-old at Moody Middle School in Henrico County.
"Our family wanted to help because we wanted Carver students to have a good clean school to come back to," Zack and Natalie said. "It's always good to have a nice place to learn and it smells good."
"What we are doing systemwide is all about our students," said Robin Dalton, a hearing officer with RPS. "We what them to come back to a beautiful and welcoming environment so they can have a great school year."