VUU Panthers hoping to reclaim glory, titles this season

After sitting out two seasons, Taylor joined the Panthers last season and is arguably the CIAA's top quarterback after Bowie State's Amir Hall, the 2017 HBCU Player of the Year.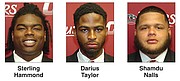 The Panthers football trophy chest is gathering dust.
VSU, the CIAA champion in 2014 and 2017, and Bowie State, the champion in 2015 and 2016, have been the nuts VUU has been unable to crack.
Panthers fans may still be a bit spoiled from the successes of former Coach Bailey and former Coach Joe Taylor, who now serves as VUU's athletic director. VUU won six CIAA titles between 1973 and 1986, while making eight NCAA tournament appearances.
Coach Parker was the team's offensive MVP in 1996 and 1998. His name is still listed in some all-time rushing and receiving categories.
In his four years as Coach Bailey's assistant during Bailey's second tenure, the Panthers reached the CIAA title game three times, winning in 2001.
Those are the types of results VUU's faithful fans are used to. Those are the types results Coach Parker hopes to bring back this season. 
Seton Hill University, a Roman Catholic school affiliated with the Pennsylvania State Athletic Association, is coming off an 0-11 season in which it was outscored 597-263.
The Griffins were 5-6 in 2016 and 3-8 in 2015, all under Coach Isaac Collins.
The Panthers' home stand will continue Saturday, Sept. 8, when Carson-Newman University of Tennessee comes to Hovey Field for the annual Willard Bailey Classic.