Personality: Ashley A. Morgan
Spotlight on Richmond's 2019 Teacher of the Year
12/6/2018, 6 a.m.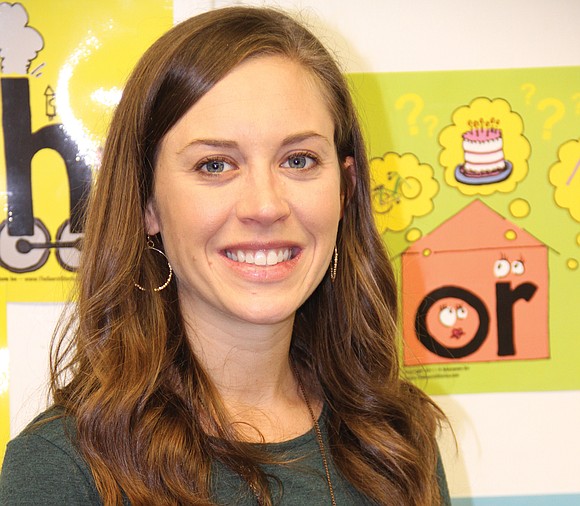 A William Fox Elementary School teacher's youthful dream paved the way to Richmond's highest teaching honor.
Ashley A. Morgan, 28, a first-grade teacher at the Hanover Avenue school in The Fan, was named the 2019 Richmond Public Schools Teacher of the Year last week during the school district's annual ceremony. She wins $1,000.
Her reaction was classic for a low-profile teacher who stands out for great work in the classroom.
"It was shocking as I realized the great company of teachers surrounding me," Mrs. Morgan recounts of the Nov. 29 ceremony at a Downtown hotel. "I did not expect to hear my name (called) because I could not imagine being picked as one of the top Richmond Public Schools teachers, let alone the Teacher of the Year. The award is such an honor."
Mrs. Morgan, who was one of 10 finalists for the recognition, says she owes the award to the many teachers who pushed and guided her along the way.
"She did her student-teaching at Fox in 2014," says Fox Principal Daniela Jacobs. "I knew then that I wanted her to work at Fox, although I did not have a position for her at the time."
Ms. Jacobs hired her as soon as a position became available in 2015.
In the intervening year, Ms. Morgan taught kindergarten at Henrico County's Dumbarton Elementary School.
"Ashley is one of those people in that teaching is just innate. She's got it," Ms. Jacobs says, adding that she wasn't surprised when Ms. Morgan was named Teacher of the Year.
She is the fourth Fox teacher to win the award since 1990.

She calls Fox Elementary "a very unique place," with a variety of music and arts programs. "We have an outstanding PTA that supports what we are doing."
She describes the student body as "diverse," with some students from affluent families, others from low-income families and others who live in homeless shelters "and face a few more struggles."
But, Fox Elementary "is one school, and we all have different things to offer from our different backgrounds," Mrs. Morgan says.
Because of that diversity, Mrs. Morgan says she realizes that each child comes to school with different issues that may be barriers to learning. This fact led her to join a group of teachers exploring a trauma-informed approach to teaching and learning and adding it to her skills.
"There are many students having some sort of trauma (at home) like divorce, which can affect a child, or struggling to find housing or just moving around a lot," she says. "Teachers need to know where their students are coming from and help them deal with it. A student may really need help so they can focus on their academics, as well as feel comfortable and loved."
For Mrs. Morgan, building student-teacher relationships is one of the most important aspects of teaching.
"My focus on relationships is huge because I want my students to realize they are learning, seeing how much they grow and to always feel learning is fun."