Personality: Gilbert W. Wilkerson Sr.
Spotlight on president of Coalition Against Urban Violence
12/13/2018, 6 a.m.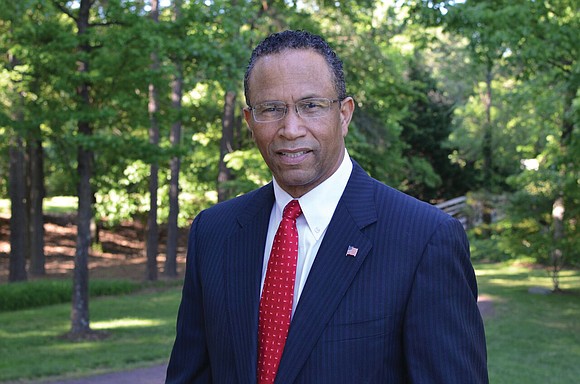 Want to go?
What: 28th Annual Holiday Memorial for Survivors of Homicide, an event for families and friends to remember homicide victims.
When: 7 p.m. Thursday, Dec. 13.
Where: At the "River of Tears" statue, first floor, Richmond City Hall, 900 E. Broad St.
Christmas is a time for faith, family and counting blessings.
But for someone who has had a loved one tragically taken from them through violence, the season can be full of pain and sorrow.
Gilbert W. Wilkerson Sr., president of the Coalition Against Urban Violence, knows the pain many Richmonders and Virginians face. His older brother, Innis Wilkerson was murdered in Danville in 1994. He was 50.
"Although I had a father, my brother was the family protector and the godfather of the family," Mr. Wilkerson says of his brother. "We lived in a rough area and no one would mess with us because of him.
"It was tragic because of his loss," he continues. "It has taken me a while to get over grieving for him."
Mr. Wilkerson will join other families and friends of homicide victims at the coalition's 28th Annual Holiday Memorial for Survivors of Homicide at 7 p.m. Thursday, Dec. 13, at the "River of Tears" sculpture on the first floor of Richmond City Hall, 9th and Broad streets.
"We dedicated the statue in 1996," says Mr. Wilkerson, who has been active with the organization for more than 25 years. "It was a big deal because it is the only statue dedicated to murder victims' families in Virginia as well as in the United States."
Ribbons with the names of lost loved ones will be placed on the statue.
Richmond Police Chief Alfred Durham, Virginia Commonwealth University Police Chief John Venuti, the Richmond Commonwealth's Attorney's Office Victim-Witness Services and others will join in the program, which is free and open to the public.
Mr. Wilkerson encourages survivors to attend.
"During these times, you want to remember them and the love you have for them," he says.
"After my brother was killed, I attended the event" in 1994, Mr. Wilkerson recalls. It was held at the time on the front steps of the John Marshall Courts building in Downtown. It later was moved to City Hall.
At the event, he met coalition founder Linda S. Jordan, whose 19-year-old son, William Jordan III, was murdered in Richmond in 1990.
"I wanted a place where I could come to remember and memorialize my brother, but there was not an event of this type in Danville," Mr. Wilkerson says.
He says it has been beneficial for so many people because it has created an extended family and support system for survivors, turning a time of turmoil into something positive. He wants to make the annual memorial event more visible in the metro area.
He understands the range of emotions families are dealing with.
"Trust in God and that will get you through," he says, offering a healing message to those families new to the grief.
"I had to forgive the person who murdered my brother," he continues. "To be free and have a successful life and get beyond that, you have to forgive that person, but you can't forget your loved one. You celebrate your lost loved one's life."