Personality: Gilbert W. Wilkerson Sr.
Spotlight on president of Coalition Against Urban Violence
12/13/2018, 6 a.m.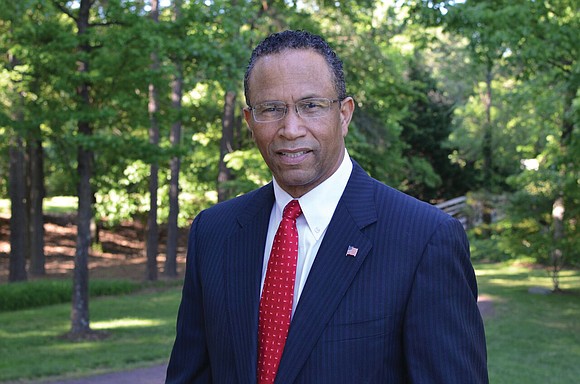 Meet an advocate who works to help others with their grief and this week's Personality, Gilbert W. Wilkerson Sr.:
Occupation: Judge's assistant, Richmond Circuit Court.
Duties of position: Security and liaison between judges and attorneys so that trials proceed on time and flow effectively.
No. 1 community involvement: President, Coalition Against Urban Violence.
Place of birth: Leaksville, N.C.
Current residence: Glen Allen.
Education: American National University.
Family: Wife, Gloria; children, Gilbert II, Galen, Garris and Gariel.
Who founded coalition and when: Linda S. Jordan founded the coalition in 1991 after her son was murdered.
Number of coalition members: 150 to 200 members.
Importance of annual holiday memorial: To keep the memory of our loved ones alive, celebrate Christmas together and allow others to see how violence affects families and the community.
Why it's held during the holiday season: Most families like to spend Christmas together, and because there is a person missing, this ceremony provides a sense of closeness.
Coalition's view of available services for relatives: There are never enough services for relatives because of the number of family victims, and the time it takes to heal from the loss.
Impact of homicide on children: The impact on children can be catastrophic and lasting, leaving nightmares and a sense of loneliness that never goes away.
What ceremony means to them: A time to remember and reflect on their loved ones in a public arena and bond with others who suffered a loss also.
Coalition's view of Richmond Police: Always supportive. The officers work hard to bring closure to the suffering families. They also understand the grief and suffering of our family victims during the holidays.
View of Richmond Police efforts to solve homicides: The homicide unit works the hardest to catch the person responsible and bring closure. But, sometimes, the public holds the key to solving a lot of our crimes.
What needs to be done to reduce homicides: Fathers need to spend more time being involved in the homes and parents need to be better example of how we treat people with respect and dignity.
View on gun control: Background checks are a start. Keeping illegal guns off the streets is another way of curbing violence. Tearing down stigmas between one community and the other also. We are all Richmonders.
Level of violence in city: The city used to lead the nation in murders. Today, it's a lot better because of good police work and people stepping up to share information. Still, one murder is one too many.
How can that be reduced: Violence can be alleviated when we start in our own homes as examples of instruments of peace.
Role community should play: The community should be more proactive in requesting better lighting, more police tools to fight crime and standing in solidarity to stamp out violence.
How I start the day: I start the day with Bible reading in the morning and a bowl of oatmeal. Then I plan on how I'm going to maneuver traffic on Interstate 64 so I can get to work on time.
A perfect day for me is: Doing what I want when I want.
Something I love to do that most people would never imagine: Riding Code 3 (with lights and sirens on) with police officers.

How I unwind: Reading and restoring my antique Volvo.
A quote that I am inspired by: "Men sleep peacefully in their beds at night because rough men stand ready to do violence on their behalf." — George Orwell.
Best late-night snack: Yogurt with granola mixed in — OMG!!
Best thing my parents ever taught me: Respect for others and to be kind to all.
Person who influenced me the most: My mom.
The book that influenced me the most: "Common Sense" by Thomas Paine.
What I'm reading now: "Abraham Lincoln: A Biography" by Benjamin P. Thomas and "Ontology or the Theory of Being" by Peter Coffey.
The one thing that I've learned in life: Keep my mouth shut as much as possible.

My next goal: Complete at least one of the five books that I'm writing.