Dr. S. Dallas Simmons, late VUU president, to be inducted into CIAA Hall of Fame
Fred Jeter | 12/28/2018, 6 a.m.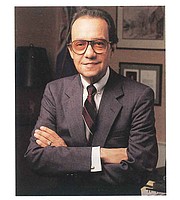 The late Dr. S. Dallas Simmons, former president of Virginia Union University, is among seven people chosen for induction into the 2019 John B. McLendon CIAA Hall of Fame.
The induction ceremony will be 9 a.m. March 1 at the Charlotte Convention Center in North Carolina in conjunction with the CIAA men's and women's basketball tournaments.
Dr. Simmons, who died in July 2014, served as VUU's president for 14 years starting in 1985. Prior to coming to the Lombardy Street campus, Dr. Simmons served as president of the former St. Paul's College in Lawrenceville from 1981 to 1985, and as an administrator at North Carolina Central University and Norfolk State University.
Others to be inducted into the 2019 Hall of Fame:
• Thomasina Cunningham, a track and field standout at Hampton University from 1981 to 1984 and one of the CIAA's top women track and field athletes.
• Antwain Smith, a basketball standout at the former St. Paul's College who was drafted by the NBA Vancouver Grizzlies and later played in the International Basketball League and the National Basketball Development League.
• Eric Moore of Fayetteville State University, a longtime sports information director who is credited with his impact on and preservation of CIAA history and statistics. He now serves as executive director of the Black College Sports Information Directors' Association.
• John Lockett, a top scorer and rebounder in the CIAA as a member of the St. Augustine's University men's basketball team in the 1960s.
• Retired Lt. Col. Robert L. Weeks Sr., a football standout at Winston-Salem State University in the 1970s.
• James "Jim" Burch, a longtime former basketball official who retired in June as CIAA coordinator of basketball officials.