City, schools officials struggle over how to fund school building improvement plan
2/1/2018, 9:15 p.m.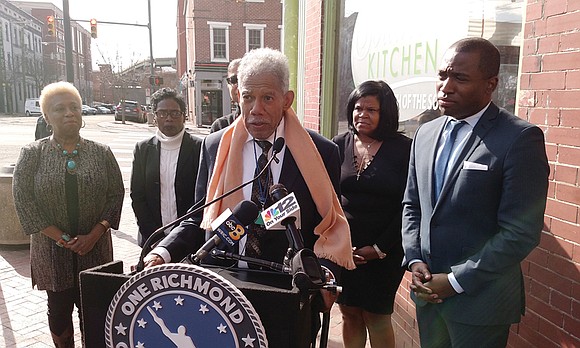 "The funding is based on one funding source and not broad based," Mr. Snipes told the Free Press. "A real estate tax is a more rational method and it would be less burdensome on each home.
"My preference is to raise all taxes across the board a little bit as opposed to coming after just one group," he said. "We all should pay for the schools."
In an effort to push his meals tax plan, Mayor Stoney held a news conference Tuesday outside of Southern Kitchen restaurant in Shockoe Bottom with several officials who graduated from RPS. He received support from the cadre of officials as he reaffirmed that RPS' capital needs cannot be delayed any longer.
With him were former Richmond Mayor and state Sen. Henry L. Marsh III; Mr. Marsh's daughter, Nadine Marsh-Carter, president and CEO of the Children's Home Society who stepped down from the Richmond School Board last year following the death of her husband; interim 7th District School Board member Cheryl Burke, a former RPS principal who was named to replace Ms. Marsh-Carter on the board; City Councilwoman Newbille; and Southern Kitchen owner Shane Thomas.
They sang praises about their education in Richmond Public Schools and support for the mayor's plan. But they also expressed some foreboding about the education received by today's students and those in the future.
"When my father went to George Mason Elementary (in the 1940s), it was a challenge. And when I went there in the 1960s, it was still a challenge," Ms. Marsh-Carter said.
"When is it time to step forward and invest in our youths and our future?" Ms. Marsh-Carter asked rhetorically. "We, in the city of Richmond, should put our money where our mouths are."