The power of protests
2/2/2018, 7:20 a.m.
For those of us who grew up during the marches, sit-ins and demonstrations of the 1960s and 1970s, we're used to large, noisy crowds of people hitting the streets and sidewalks to create awareness and change on a whole range of issues.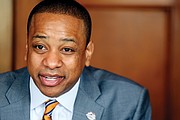 But protests always don't have to be big or loud. They just need to get the point across.
We believe Lt. Gov. Justin E. Fairfax got his point across mightily last week with two quiet protests in the Virginia Senate, where he is the presiding official. 
On Monday, Jan. 22, and again on Thursday, Jan. 25, the Johnny Rebs in the Virginia Senate stood and lauded slave owners and traitors to this nation, Confederate Gens. Stonewall Jackson and Robert E. Lee, in seeking to have the state Senate adjourn in their honor. 
But Lt. Gov. Fairfax, the 38-year-old Northern Virginia attorney and only the second African-American to hold statewide office in Virginia, wasn't going to be a part of it. On both days, he stepped down from the dais and sat down, leaving the president pro tempore of the Senate to preside while senators extolled the vanquished Confederates.
His protest, a sit-in of sorts, was a "personal decision," he said, to honor his family. 
We applaud him.
The lieutenant governor's quiet protest garnered national attention, with people appalled by the flagrant backward-thinking Virginia senators who continue to honor Confederates who picked up guns and fought against the United States in order to keep black people in human bondage and misery.
Today, white supremacists, neo-Nazis and Ku Klux Klan members readily take to the streets — in violent and deadly protests, as the nation witnessed in Charlottesville last summer — to protect statues of their dead, racist heroes.
We have to question why Virginia's senators continue to honor a bloody, shameful past that should have been gone with the wind when Gen. Lee and the Confederates surrendered in 1865.
Lt. Gov. Fairfax shined a light for the world to see the sickness that festers in Virginia, and perhaps most dangerously, even among people in top leadership positions. 
It is no wonder then that the General Assembly's regressive, narrow-minded Republican majority continues to quash expansion of health care coverage to 400,000 of Virginia's working poor, to block gun control measures to curb the violence in our communities and still holds up racist traitors as their heroes more than 150 years after the end of the Civil War.
We call on Virginians and others to help push our state lawmakers into the present. We again call for an elimination of the Lee-Jackson state holiday in January in which more than 105,000 state employees receive a day off with pay in honor of the Confederates.
And we renew our call for the statues of these Confederate traitors to be removed from Monument Avenue, although that may be more difficult since Republicans in the Senate and House of Delegates have killed bills that would have allowed localities to take down such statues.
We believe the statues should be moved to national battlefield parks in Virginia or to private museums, with people dedicated to preserving them picking up the tab. 
As for the state holiday, we suggest moving it to June 25, the day in 1788 when Virginia became a state. That's something we all can stand up for.