Kings Dominion changes name of roller coaster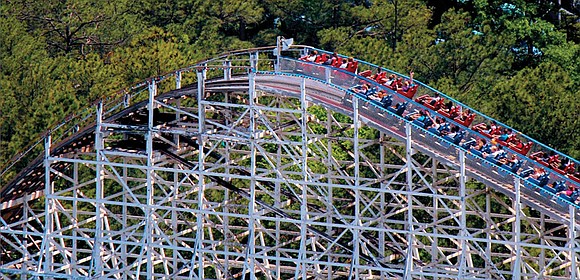 Kings Dominion amusement park is changing the name of a roller coaster named after the war whoop of a Confederate soldier.
The park located in Doswell, about 20 miles north of Richmond, will rebrand its "Rebel Yell" roller coaster as "Racer 75."
The wooden coaster opened with the park in 1975.
Confederate symbols have been widely debated since self-avowed white supremacist Dylann Roof killed the pastor and eight African-American parishioners at a historic African-American church in Charleston, S.C., in 2015. Since then, numerous cities, including Richmond, have been reviewing Confederate symbols. More than a dozen cities, including Baltimore; New Orleans; Dallas; Durham, N.C.; Lexington, Ky.; Memphis, Tenn.; San Diego; San Antonio; and Rockville, Md., have removed statues and memorials to Confederates from public spaces.
A post on the Kings Dominion blog describes the name change as part of a "revitalization."

It stated the new name is "reflective of the design, a racer-style coaster." The blog said the park also will continue replacing sections of the wooden coaster's track "as a commitment to maintaining the iconic ride."
The park received some criticism on its Facebook page following the news, with some people vowing they won't return or will spend their money at Busch Gardens in Williamsburg instead:
"Caving into PC mentality is not a way to keep your long term customers. I've rode the Rebel Yell for 25+ years and can say I never once gave any thought to the name. What's next, are you going to rename "Kings Dominion" because the word "King" has an over bearing male tone sexist characteristic? Just waiting on the feminist to comment!
Another stated: (sic) "I'm giving you one star because of the fact you are changing the name of the Rebel yell That Has been the name of that rollercoaster since I was little and now you're changing it that is heart sickening and disappointing you should be ashamed of yourself."
Another person expressed a different view:
"I love the park and will get season passes again for 2018. I've been going to the park since 1980 and my 8 year old son now joins me. I am sentimental about certain things like the Haunted River and yes even Smurf Mountain ... but I don't get …hurt if King's dominion makes decisions about names, it's just a name the rides the same. Life is too short and I have more important things to worry about. KD is an essential part of my family's summer and it will be that way for years to come."
Opening day is March 24.