Personality: Jamar Jones
Spotlight on area actor in Black History Month production
2/9/2018, 6:28 p.m.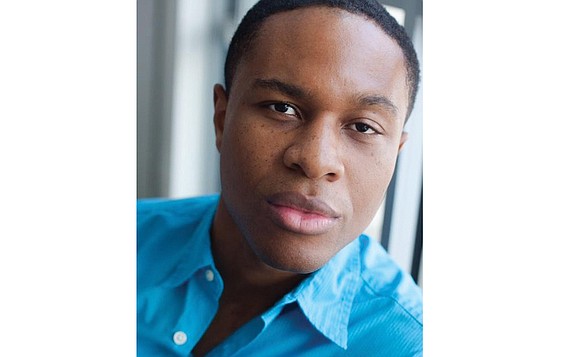 "We can learn from our ancestors that it is possible to blaze our trail in order to improve the lives of our descendants because they will be a direct reflection of what we accomplish in our lives."
This is the observation of Jamar Jones, a 26-year-old Richmond native starring in The Heritage Ensemble Theatre's latest production, "Free Man of Color," written by Charles Smith.
It is one of the tributes taking place during February to mark Black History Month.
The play is an adaptation of the story of John Newton Templeton, a slave who was unexpectedly freed and attends Ohio University, graduating in 1828, well before the end of slavery.
The school's president, the Rev. Robert Wilson, brings Mr. Templeton to the school, where he is the first person of color to enroll. An abolitionist, Rev. Wilson believes that Mr. Templeton has a divine calling to lead free black people in a free and sovereign nation of their own — Liberia.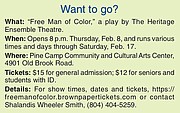 Mr. Templeton, who is caught between the expectations of Rev. Wilson and realizing what founding a colony of free black people in Africa would mean to American black people, learns what it really means to be a free man of color.
Mr. Jones plays the role of Mr. Templeton.
"You have a free black man going to a university in the 19th century when most blacks are still in bondage," Mr. Jones explains. "This has its own challenges.
"Throughout the performance, you see Mr. Templeton coming into full manhood and full personhood as he discovers his role in society as a free black man at that time.
"I hope people come along on this journey with an open mind and are ready to examine what was reality for black people of the past and, hopefully, see how many made sacrifices for us all," he says.
The Heritage Ensemble Theatre focuses its productions on the African-American experience. Mr. Jones has been with the company since last February, when he was cast in "Choir Boy," a play by Tarell Alvin McCraney about a gay black teen at a private boarding school.
Mr. Jones works as an interpreter at Colonial Williamsburg, where he portrays free and enslaved black people from the 17th and 18th centuries. During the evenings, he performs in theatrical productions around the area and travels to museums and many unconventional settings performing living history.
"I bring to life the people and their stories, which were part of the beginnings of this country," Mr. Jones says.
February is special, he says, because it is important to understand and celebrate "our collective history, all of America."

"We all have descended from different types of people — some were enslaved or were enslavers — but it is still our collective story," Mr. Jones says. "Some of these stories have gone untouched, untold and unrecognized."
It's important for these stories to be told, he says, because enslaved black people were considered only as property. "The information we have on people in bondage is just in wills, with a price next to them," Mr. Jones says. "Their humanity was taken away from them.