Personality: Jamar Jones
Spotlight on area actor in Black History Month production
2/9/2018, 6:28 p.m.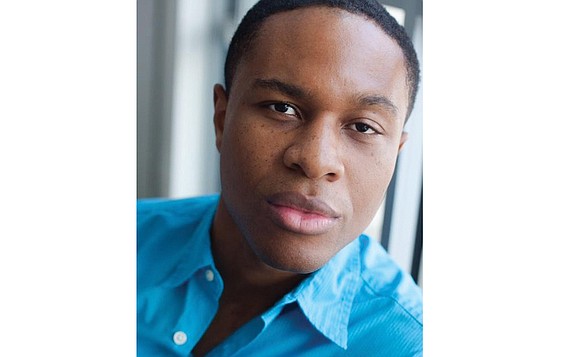 "By highlighting these stories, identifying who these people really are, we are paying homage to their lives because they did not get their credit when they were alive. They were trailblazers making a difference."
Audiences have varying reactions to his characters, Mr. Jones says. "Some people are thrilled to hear these stories because they know their personal history and they want the ancestors to be celebrated.
"Other people are uncomfortable with talking about slavery and the nature of oppressors. You know, they should be uncomfortable," he continues. "We should all be uncomfortable because it was definitely an uncomfortable period in our American history.
"Black History Month and portraying our history helps us to have these difficult conversations."
Meet this portrayer of black history and this week's Personality, Jamar Jones:
Date and place of birth: March 15 in Richmond.
Current residence: Williamsburg.
Alma maters: Meadowbrook High School in Chesterfield County and bachelor's degree in sociology and theatre, College of William & Mary.
Family: A fun and lovely one, based predominantly in Virginia and North Carolina.
I started acting: In the 10th grade. My very first play was "The Diviners," playing the role of Melvin Wilder.
When and why I got involved in theater: I always wanted to be on stage since I was a kid, but was too self-conscious. Thankfully, my very first drama teacher, Charmaine Crowell-White, told me that she was going to put me in a play. And here we are 10 years later!
My most satisfying acting role: Every character has brought satisfaction or taught me something new.
My latest role: John Newton Templeton in The Heritage Ensemble Theatre's production of "Free Man of Color" by Charles Smith.
How I prepared for this role: I researched John Newton Templeton and examined what was going on in America during his time at Ohio University. Then I began to explore in order to craft my interpretation of this man.
Actor who influenced me the most: It's a three-way tie — James Earl Jones, Morgan Freeman and Whoopi Goldberg.
Playwright I most admire: Currently, Katori Hall.
Why African-American theater really interests me: I love telling stories. As a black man, it's very special to examine and highlight the black experience on stage. There is such a rich history and theater is a great medium to share this history.
A perfect day for me: Waking up with good health, spending time with those I love, experience some form of art and plenty of laughter. That's cool with me.
Something I love to do that most people would never imagine: I love taking myself on sushi dates!
A quote that I am inspired by: "If you want to be somebody, if you want to go somewhere, then you better wake up and pay attention." — Whoopi Goldberg as Sister Mary Clarence in "Sister Act 2." My mom and I are big Whoopi fans!
How I unwind: Dancing to any of Janet Jackson's music.
At top of my "to do" list is: To meditate.
Outlook at start of day: Make it count. Today will only come once.
The best thing my parents ever taught me: That I should never limit myself — any and everything is possible.
The person who influenced me the most: I am blessed to have a fantastic community. An incredible mother, awesome father and great family and true friends. I learn from them all.
The book that influenced me the most: "The Collected Poems of Langston Hughes" by Langston Hughes.
What I'm reading now: "The Hollywood Commandments: A Spiritual Guide to Secular Success" by DeVon Franklin and Tim Vandehey.
My next goal: Preparing for new projects and more reading and writing in order to continue to enhance my artistic development.