NASCAR's Bubba Wallace finishes 2nd at Daytona
Fred Jeter | 2/22/2018, 8:49 p.m.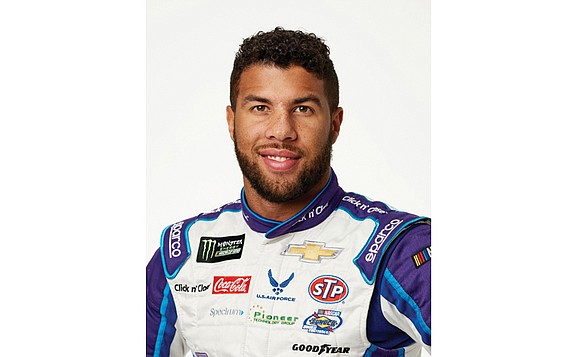 Darrell "Bubba" Wallace Jr. is making racecar history.
The 24-year-old African-American driver finished second Sunday at the prestigious Daytona 500, behind Austin Dillon.
In doing so, he became the:
• Highest finishing rookie ever at Daytona.
• Highest finishing African-American driver ever at Daytona. The best previous win by an African-American at Daytona was 13th by Virginian Wendell Scott in 1966.
Wallace also is the first African-American driver to have a full-time ride on the top NASCAR circuit — now called the Monster Energy Cup — since Scott in 1971.
Wallace is driving the famed No. 43 Chevrolet Camaro for Richard Petty Motorsports. Petty won more races than any other driver in history.
After his historic Daytona performance, a teary Wallace received a long hug from his mother, Desiree, as they stood before the press corps.
"I just try so hard to be successful in everything I do," Wallace told the media. "My family pushes me each and every day, and they may not even know it. But I just want to make them proud."
In Sunday's race, which was marred by wrecks, Wallace finished 0.002 seconds ahead of Chesterfield County's Denny Hamlin, who took third.
The race also will be remembered as the farewell drive for Danica Patrick, the most prominent female driver in NASCAR annals.
Patrick, who wrecked and finished 35th, had announced she was retiring after Daytona.