Artistic salute to veterans
1/5/2018, 3:57 p.m.
This unique sculptural tribute to military veterans stands at the Virginia War Memorial near the Lee Bridge.

Dubbed the "Veterans' Impact Project," the three-part relief features the impressions of objects symbolic of military service, ranging from helmets and other gear to scissors, poker chips, stars, medals and a harmonica.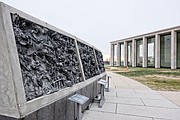 At a Dominion Riverrock festival in May 2014, 170 veterans and their family members used a Roman-style throwing machine to hurl the rubber-cast items into a 3,000-pound wall of clay. Others punched, kicked, poked or pressed items into the wall in what is believed to be the first crowd-sourced work.
The impressions were later cast with all-weather polymerized plaster to create the outdoor triptych.
Richmonders Kevin and Andrea Orlosky, founders and leaders of the nonprofit Art on Wheels, are credited with the idea. They worked with veterans and Richmond sculptor James Robertson of Richmond to produce the one-of-a-kind piece.
An explanatory statement about the piece describes the project as a "platform (for veterans) to communicate the depth of their experiences and the impact of service on their lives to a broader audience."