Oprah for president?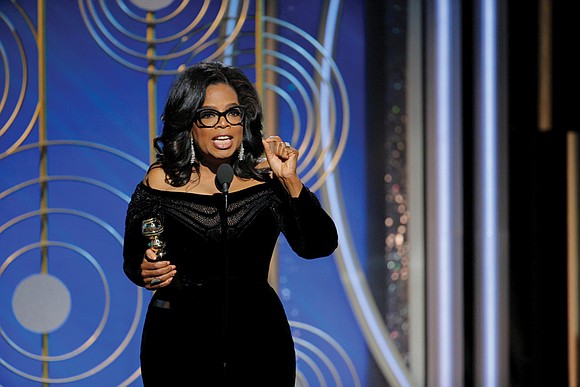 That's the buzz since the 63-year-old media mogul stole the show at the Golden Globe Awards on Sunday night with her speech accepting the Cecil B. DeMille Award for lifetime achievement.
Ms. Winfrey's 9-minute speech lit up Twitter with a surge of tweets carrying "#Oprahforpresident" and "#Oprah2020."
Wearing a black gown to show support for victims, Ms. Winfrey used her platform to promote the "Time's Up" movement against sexual harassment and assault, throwing her support behind others who have exposed sexual misconduct in Hollywood and elsewhere in politics and the media.
"She had that room in her hands. It was like a campaign rally," said Sherry Bebitch Jeffe, a senior fellow at the University of Southern California's Price School of Public Policy.
She garnered two standing ovations from the Hollywood glitterati and prompted 220,000 posts on social media mentioning the words "Oprah" and "president" in just 24 hours, said Todd Grossman of social media analytics company Talkwalker.
Ms. Winfrey's close friend, Gayle King, and longtime partner in business and life, Stedman Graham, did not dispel the notion.
"It's up to the people … She would absolutely do it," Mr. Graham told the Los Angeles Times.
Ms. Winfrey, however, has said in the past she is not interested in running for president. But things could change.
After President Trump won the White House in November 2016 with help from his fame as a reality TV star, it no longer seems far-fetched to consider a similar campaign by Ms. Winfrey, an actress, movie and television producer and chief executive of her OWN cable channel, political analysts said.
What is President Trump saying?
"We welcome the challenge, whether it be Oprah Winfrey or anybody else," Trump spokesman Hogan Gidley told reporters on Air Force One during a flight to Nashville, Tenn., on Monday. "We welcome all comers."