Challenge under raps
Cosby High School student hoping for fame and a win on music TV show
1/19/2018, 6:52 p.m.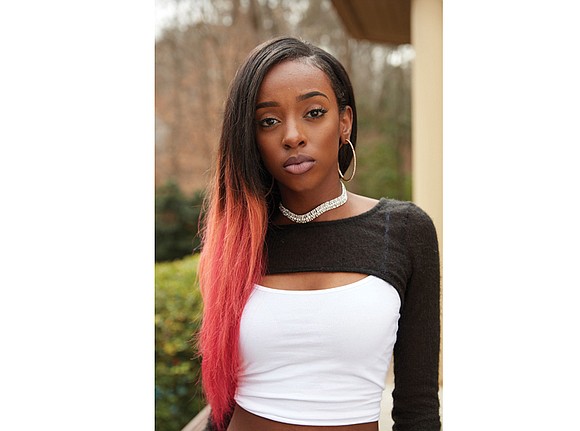 By Ronald E. Carrington
When Brazil Barber posted a music video on YouTube in March 2016 of a song she wrote and performed, little did she know that it would open doors and land her on a national cable television show.
But that's what happened to the 16-year-old 11th-grader at Chesterfield County's Cosby High School. She is one of five promising young artists competing on "The Rap Game," a reality show airing on Lifetime. She hopes to win the show's ultimate prize — a recording contract with hip-hop artist and executive Jermaine Dupri's label, So So Def Recordings.
The show's executive producers are Mr. Dupri, a Grammy Award winner, and Grammy nominee Queen Latifah.
For 13 weeks from last January through April, Brazil, who performs under the name "Rap-Unzel," lived with her mother-manager and four other contestants and their managers in an Atlanta mansion, where she went through a music boot camp with a new challenge each week.
The contestants were helped each week by a variety of noted performers, including Da Brat, Bow Wow, DNA, K-Shine, Doug E. Fresh, Teyana Taylor and actress Keke Palmer, as they worked on writing lyrics, performing style and stage presence.
At the end of each of the episodes, one of the contestants is at the top of what is called "the hit list," while someone's at the bottom. Each of the teen artists is aiming to win the record deal, with the competition becoming more and more intense every week.
"One week, we may be creating our own song," Brazil told the Free Press in a telephone interview Monday. "Another week, we are producing a music video. Still another, we may be doing a battle rap," she said.
"The five of us are always surprised because we have no clue about what may be jumping off until the morning of the challenge."
Each week's challenge also strains relationships among the competitors, especially when someone feels they should be higher on the hit list than they've placed.
"It's good and bad at times," Brazil explained. "It was just one of those things."
Brazil and the contestants are precluded from talking about how the show ends. Fans will have to tune in 10 p.m. Fridays to see how she is doing.
The straight-A student started writing rhymes and rapping when she was 9. She chose the name Rap-Unzel, she explained, because it is a play on the name of one of her favorite Disney princesses and has the word "rap" in it. Brazil also is into hair. Having long hair, or wearing her hair in different styles, is important for her as an artist, she said.
She is all about using her musical gifts to make it big for herself and her family.
She comes from a family familiar with the entertainment industry. Her father, Lou Barber, is a choreographer and director who has worked for artists D'Angelo, Beyonce and Missy Elliott, and her mother, Tiki Barber, is a makeup artist. Both know how hard it is to be discovered and get into the entertainment industry.