Talent doesn't fall far from family tree for Arnold Henderson VI
Fred Jeter | 1/19/2018, 5:45 p.m.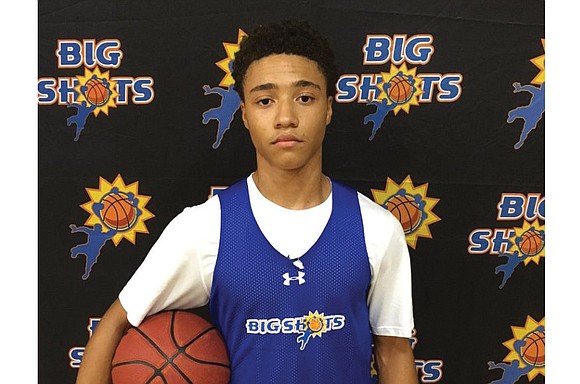 Some of Richmond's prominent basketball family trees have branches stretching to St. Christopher's School's leafy West End campus.
The latest to suit up for the Prep League Saints is Arnold Henderson VI, a junior guard renowned for his floor leadership, harassing defense and 3-point aim.
"Arnold is the one who makes us go," said veteran St. Christopher's Coach Hamill Jones. "He's clearly our best ball handler. Plus, he's hitting 46 percent of his threes."
The 5-foot-10 Henderson, having attended St. Christopher's since kindergarten, is the son of Arnold V and Andrea Henderson of Mechanicsville, and nephew of hoops legend Gerald Henderson.
"Gerald's been to our house a couple of times and he loves playing golf with my dad," said Henderson.
Now a criminal defense attorney, Henderson V was a starting point guard for Thomas Jefferson High School's 1975 Group AAA State champions under Coach Dave Robbins.
"For years, Arnold held the state tournament record for assists," Coach Robbins recalled. "He was a real good player for us."
Entering this week, the 17-year-old Henderson was averaging 10.4 points while hitting 24 of 52 3-pointers for the 7-4 Saints.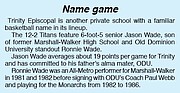 Twice, he has scored 17 points in a game and was named All-Tournament at the St. Albans Invitational in Washington.
"My role is to be the facilitator and to knock down some open shots when they're there," said Henderson. "My goal is to eventually play in college and I practice almost every day to help make that happen."
Coach Jones said, "Arnold is also very forceful with his (defensive) ball pressure, very disruptive."
Famous names are fairly common at St. Christopher's. Saints alumni include Nick Sherod, Class of 2016, and Eric Thompson Jr., Class of 2017.
Sherod, now a sophomore guard at the University of Richmond, is the son of former John Marshall High School and Old Dominion University star E.J. Sherod, and grandson of Ed Sherod of John Marshall High, Virginia Commonwealth University and NBA fame.
Thompson, a guard, was a leading light on last season's Saints team. He's the son of former Marshall-Walker High and Virginia Union University guard Eric Thompson Sr.
The elder Thompson helped Marshall-Walker to State Group AAA titles in 1982 and 1983 and VUU to a pair of CIAA tournament crowns in 1985 and 1987.
Eric Jr. is now a freshman at the College of William & Mary, though not playing varsity basketball.
Arnold VI has much the same role with St. Christopher's as Arnold V had at Thomas Jefferson High.
St. Christopher's features one of the area's leading scorers in Gibson Jimerson, aka the "Saint in the Paint," a 6-foot-6 junior with scholarship offers from the University of Cincinnati and Kansas State University.
"Arnold is absolutely crucial in facilitating Gibson," Coach Jones said. "But if they're keying on Gibson, Arnold will make them pay from the outside."
Henderson's assignment is to feed Jimerson, who averages 25 points per game, much like his father's job description included passing to All-State Keith Valentine (who signed with the University of North Carolina) and Otis Fulton (a University of Virginia signee).
"My father has told me many stories about filling the Coliseum (Thomas Jefferson versus Maggie Walker in 1975) and winning the state championship (defeating Halifax in the finals in Charlottesville)."
Henderson actually has played under his father, who coaches with the Team Richmond-Garner Road AAU travel program.
Young Henderson also credits his trainer, Anthony Ervin, a former Manchester High/St. Francis (Pa.) standout now coaching at James River High School.
"Arnold practically lives in the gym," said Coach Jones. "Last year, minutes were hard to find for him, but he was absolutely great in practice every day.
"He knows how to handle a challenge, how to be a good teammate."
Not surprising, considering the family tree.