VCU's Tillman breaks out with double-doubles
Fred Jeter | 1/19/2018, 5:43 p.m.
At least on the basketball floor, Virginia Commonwealth University's Justin Tillman has double the appetite of most others.
The 6-foot-8 senior scored his seventh consecutive double-double in the Rams' Jan. 12 loss at the University of Dayton, where he collected 26 points and 12 rebounds.
Entering this week, the Detroit native had an Atlantic 10 leading nine double doubles, three ahead of Duquesne University's Eric Williams.
For his career, Tillman is sixth all-time, with 25 double-doubles. Only Ren Watson (46) and Kendrick Warren (43) seem out of reach on the career chart.
VCU (11-7 overall, 3-2 in the A-10 as of Jan. 16) faced the visiting University of Richmond on Wednesday, Jan. 17, and remains at the Siegel Center on Saturday, Jan. 20, to meet invading George Washington University (12:30 p.m. tipoff on NBC Sports Network).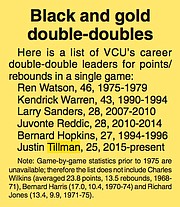 Tillman continues his emergence as one of VCU's and the A10's statistical giants. Originally recruited by former Coach Shaka Smart, Tillman is sixth in A-10 scoring (18.2), second in rebounding (9.6), sixth in field goal percentage (56.3) and ninth in 3-point shooting percentage (42.6).
His spike games have been 28 points against Old Dominion University on Dec. 2 and 17 rebounds playing Duquesne on Jan. 9.
A year ago, George Mason University's Marquise Moore led the A10 with 20 double-doubles. The A-10 has no all-time record for that category.  
As of Jan. 14 nationally, Tillman ranks 24th in double-doubles this season.
Coincidentally, the NCAA leader is Minnesota's Jordan Murphy, a former VCU signee.
Murphy, with17 double-doubles in his first 18 games, signed with former VCU Coach Will Wade, but changed his mind when Coach Wade left for Louisiana State University last spring.
The undisputed king of double-doubles remains NBA legend Wilt Chamberlain, who recorded another worldly 227 straight between 1964 and 1967.