Quarterback showdown gearing up for Super Bowl LII
Fred Jeter | 1/26/2018, 12:56 p.m.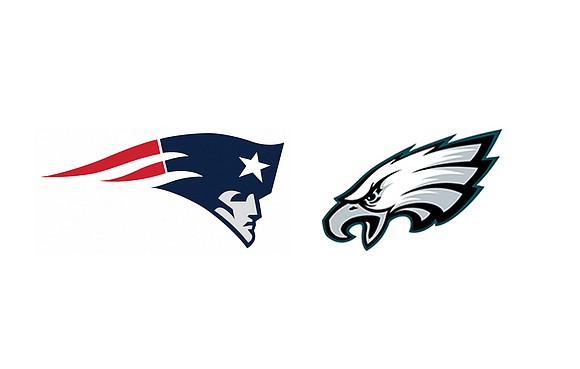 "Fly, Eagles, Fly," the Philadelphia Eagles fight song, is unofficially No. 1 on the pop charts these days in the City of Brotherly Love.  
Even fans that can't carry a tune in a bucket were unashamedly singing at full throat last Sunday as their Eagles — completing a worst to first turnaround — routed the visiting Minnesota Vikings 38-7 to earn a place in Super Bowl LII on Sunday, Feb. 4.
The Super Bowl is being billed as "Brady versus the Backup," meaning the New England Patriot's impeccable quarterback Tom Brady versus Philadelphia quarterback Nick Foles, who was pressed into service in Week 13 following a knee injury to starter Carson Wentz.
Brady, widely regarded as the greatest quarterback in NFL annals, spurred a fourth quarter comeback Sunday in New England's 24-20 home win over the upstart Jacksonville Jaguars.
Foles was equally brilliant — 353 passing yards and three touchdowns — in shredding what had been a league-leading Vikings defense.
The Patriots have become Super Bowl regulars, with Brady tossing the passes and masterful Coach Bill Belichick calling the plays.
This will be New England's record 10th Super Bowl appearance. The Pats are 5-4 in football's grandest game, with victories in 2017 and 2014.
By contrast, Philadelphia is 0-2 in Super Bowls, losing to Oakland in the 1980 season and to New England in 2004.
Ron Jaworski, "Jaws," was the quarterback for the Philadelphia Eagles in 1980; while Donovan McNabb was under center in 2004.
The Eagles finished last in the NFC East a year ago but rallied this season to win the division and then defeat the Atlanta Falcons and the Minnesota Vikings to set up a date with the "Brady Bunch."
Philadelphia's last season-ending championship was in 1960, when it defeated the Green Bay Packers in an old NFL Championship Game. Super Bowls began in 1967 with the merger of the NFL and AFL, of which the Patriots were a member.
Times have changed.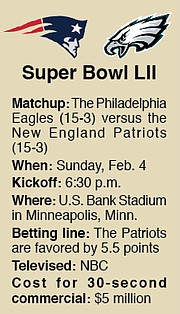 In 1960, Norm Van Brocklin doubled as the Eagles' quarterback and punter, a combination that would be unheard of in today's more specialized game.
The Eagles are in their second year under Coach Doug Pederson, who succeeded Chip Kelly. Coach Pederson is a former quarterback for the Eagles and the Cleveland Browns.
Since Coach Belichick took over the New England Patriots in 2000, the Pats are 214-74 in regular season play and 27-9 in the playoffs.
In defeating the Minnesota Vikings, Philadelphia foiled the rare possibility of the Vikings playing at home in the Super Bowl.
As much as Philadelphians idolize their team, with many fans vowing they bleed Eagles green, a trip to Super Bowl LII will mean breaking the piggy bank. Fans seriously are being gouged.
According to ESPN research, an average ticket price for the Super Bowl will be about $4,525 through StubHub or Vivid Seats. It might have been considerably higher if the Vikings were playing.
A flight from Philadelphia to Minneapolis — arriving Feb. 1 and departing Feb. 5 — is about $1,502. A room at a Ramada Inn 4.3 miles from the stadium is $779 per night, compared to $84 normally.
That said, don't expect enthusiasm to dip even a smidgen in the Pennsylvania city overdue for a celebration. It doesn't matter if Eagles fans can sing or not. Come Sunday, Feb. 4, voices will be loud and proud in every living room and corner bar in the city.