Maggie Walker birthday celebrations draw intimate crowds a year after statue dedication
George Copeland Jr. | 7/21/2018, 12:05 p.m.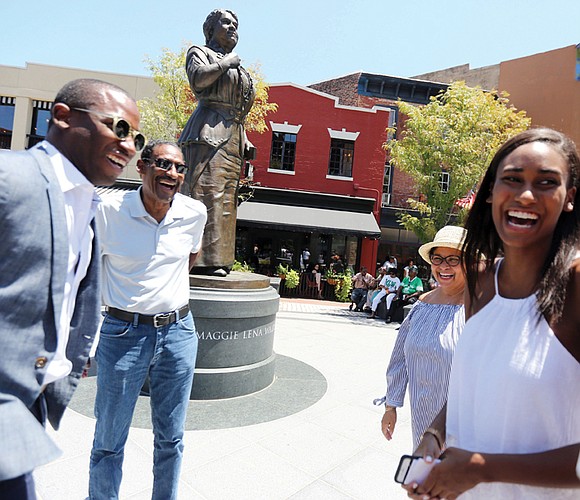 The graduates' experiences were on full display not just in their speeches, but in the final projects they presented to the guests, using statistics and mixed media to explore topics like immigration, gun control and poverty and how they impact Richmond area communities.
"It was about them finding their own voice and the issues that resonated with them," said Ajena Rogers, supervisory park ranger at the Maggie L. Walker National Historic Site. "All we did was give them the tools and give them the opportunity to train and work with people they had never known before they came to the program."
The historic site has seen a strong uptick in interest since the statue's unveiling last year, with a 50 percent increase in visitors, including many from far beyond the East Coast, according to Acting Superintendent Andrea DeKoter.
"One visitor said to me, 'This is the most inspirational story I've never heard,' " Ms. DeKoter said. "We're getting the word out."
As the celebration at Maggie Walker's home began in earnest around noon, Ms. Rogers reminded guests and visitors to take Mrs. Walker's legacy and apply it beyond the day's events.
"Use your voice to advocate for the types of things that would be important to Maggie Walker and are important to us today."