President Obama says world should resist cynicism over rise of power politics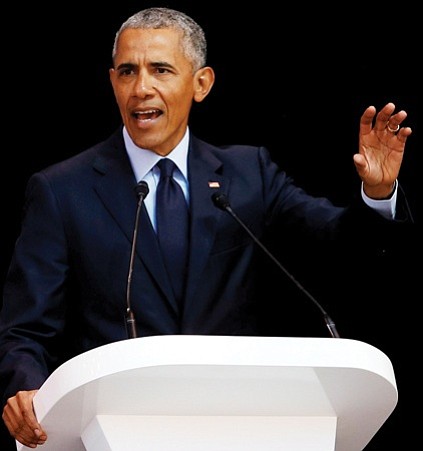 Since leaving the White House, President Obama has shied away from public comment on the Trump administration, which has reversed or attacked his notable achievements. Under President Trump, the United States has withdrawn from the 2015 Paris climate agreement and the Iran nuclear deal while trying to undercut the Affordable Care Act or Obamacare.
President Obama's speech drew on his great admiration for Mr. Mandela, a fellow Nobel Peace Prize winner whom President Obama saw as a mentor.
When President Obama was a U.S. senator, he had his picture taken with Mr. Mandela. After he became president, President Obama sent a copy of the photo to Mr. Mandela, who kept it in his office. President Obama also made a point of visiting Mr. Mandela's prison cell and gave a moving eulogy at Mr. Mandela's memorial service in 2013, saying the South African had inspired him.
Many South Africans view President Obama as a successor to Mr. Mandela because of his groundbreaking role and his support for racial equality in the United States and around the world.
Dr. Stremlau, who attended the speech, called it "a tough, strong condemnation of Trump and all that he stands for."
"Obama hit out at lying, insecurity and putting down others. Obama said he can't believe it is necessary to once again speak up for equality and human rights," Dr. Stremlau said. "He pulled it together in a carefully worded, measured speech, which urged all to live up to Mandela's standards and values."