NBA's Kyle Kuzma to lead Richmond area basketball camp
Fred Jeter | 7/23/2018, 11:03 a.m.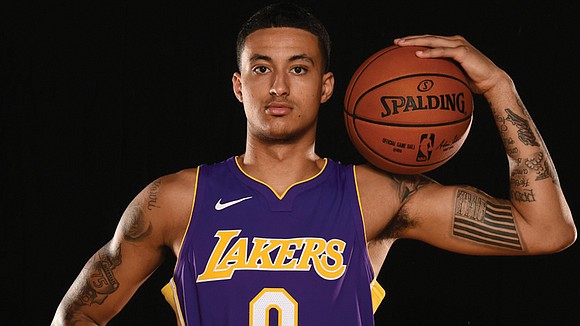 One of the NBA's rising stars is coming to the Richmond area.
Kyle Kuzma will be among the instructors at the TMG and Dreems Foundation Basketball Camp Aug. 4 and 5 at American Family Fitness-Short Pump, 11760 W. Broad St.
Terence Tarrer of Tarrer Management Group, an alumnus of Marshall-Walker High School and Virginia Commonwealth University, is camp director.
Tarrer lists Kuzma as a "client," stating that he is "100 percent sure (Kuzma) will be there the whole weekend."
Other clinicians will be local standouts Andrew White and Justin Tillman.
A 6-foot-9 native of Flint, Mich., Kuzma averaged 16.1 points and 6.3 rebounds for the Los Angeles Lakers this past season while making the NBA All-Rookie team.
Kuzma was a first round draft pick — 27th overall by the Brooklyn Nets — out of the University of Utah. He was traded to the Lakers soon after the draft.
White averaged 4.6 points and 2.3 rebounds while shooting 37 percent from beyond the arc as an undrafted free agent this past season for the Atlanta Hawks. The 6-foot-7 shooting guard began his prep career at Thomas Dale High School in Chester.
Tillman, a 6-foot-8 power player from Detroit, averaged 19 points and 10 rebounds for VCU this past season while earning All-Atlantic 10 honors.
Undrafted, Tillman played earlier this summer for the Miami Heat in the NBA Las Vegas Summer League. He likely will start next season in the NBA G-League.
Camp registration: Contact tarrermg@gmail.com or (804) 591-9846.