School Board eyeing reallocating $10M for school repairs
Ronald E. Carrington | 7/23/2018, 11:51 a.m.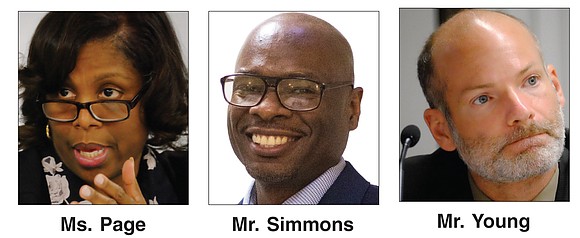 Mr. Simmons told Dr. Sapini that the $150 million for school building replacement isn't enough to cover George Wythe.
"We are looking to identify a long-term funding stream which will enable us to build George Wythe and fund the rest of the facilities plan," Superintendent Jason Kamras told the board.
"It doesn't make a lot of sense to sit on that money and hope and pray an additional $20 million plus will materialize for the construction of George Wythe," Mr. Young said in backing the plan. "These dollars should be spent on schools that have a really long shelf life."
"We are in crisis and we have to make tough decisions," Ms. Page said. "The board will continue to collaborate with the city to address the system's funding needs as we move forward to complete the first phase of our facilities plan."
In other developments, Kiwana Yates, the principal at Carver Elementary School, and three other elementary school principals are being replaced.
Mr. Kamras declined to provide further details, citing all as personnel matters.
He said Ms. Yates, who has been principal of Carver since 2012 and helped bring the school national acclaim with its high student test scores, is still employed by RPS.
Officials from the state Department of Education ordered Carver students to retake the Standards of Learning tests after it found irregularities during a preliminary investigation. Students were retested June 22 and 25, officials said. Results will be available by the end of July, he said.
Mr. Kamras said an interim Carver principal will be announced this week.
New principals already have been announced for Oak Grove-Bellemeade, Linwood Holton and Westover Hills elementary schools. They are James Gordon at Oak Grove-Bellemeade, who replaces Mary Townes; Nikea Hurt at Linwood Holton, who replaces Charlene Brooks; and Allison El Koubi at Westover Hills, who replaces Dr. Virginia Loving.
Officials also told the School Board that there are 280 vacant positions in RPS as of Monday. There are 47 openings in elementary schools, 81 in secondary schools, 54 in special education, 91 classified and support staff and seven in administration.
Chief Academic Officer Dr. Tracy Epp presented an update on the RPS policy affecting student GPAs, which was a point of contention as the school year came to a close because of inaccuracies. Class ranks and some scholarships were impacted by the problems, which also resulted in two high schools having co-valedictorians and one school having co-salutatorians.
Dr. Epp recommended that students in dual enrollment programs at area community colleges and in the International Baccalaureate program be given additional points when calculating GPAs. School board policy states, an A in a dual enrollment course is worth 6 points on the 4.0 grading scale, while an A in a regular class is worth 4 points.
During the last four years, dual enrollment and IB students were receiving 5 points for As in those courses.
The School Board will have to approve the policy. The board suggested that school staff be sufficiently trained on the changes to avoid future problems.