Veterans group wheels out new gift for single mother
Bonnie Newman Davis | 7/23/2018, 11:56 a.m.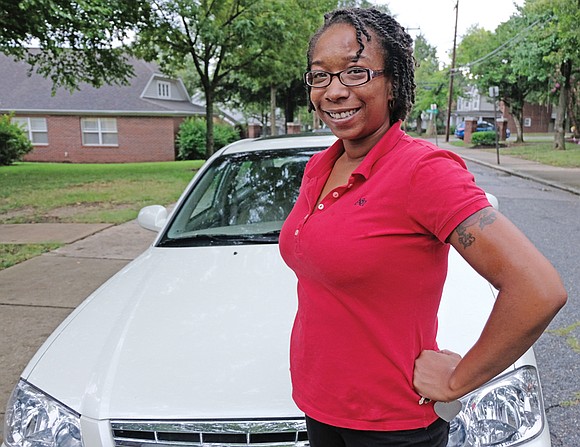 While living in Richmond's Fairfield Court public housing community for nine years, Kiocia Wilkerson spent much of the time riding buses back and forth to work each day. She also relied on bus transportation to take her two children, one of whom is autistic, to and from school and to doctors' appointments.
"I'd take the 74 to Downtown, the 44 to Fairfield Court, then back Downtown, to take the 10, 44 and 74," Ms. Wilkerson said, ticking off the various bus numbers with ease.
Although the 30-year-old single mother moved from Fairfield Court a year ago to what she considers a safer neighborhood on Richmond's South Side, her multiple bus rides continued. Some days, Ms. Wilkerson missed the bus by just a few seconds if a bus driver "was having a bad day and would shut the door and drive away."
All of that changed on April 25 after a local veterans group heard about Ms. Wilkerson's plight. Impressed by her perseverance and efforts to care for her family, the DLW Veterans Outreach and Training Center presented Ms. Wilkerson with a 2002 Kia Optima.

David L. Williams Jr., the center's executive director, heard about Ms. Wilkerson through Sandra "Sandee" Smith, program coordinator for the city Office of Community Wealth Building's BLISS program.
BLISS, Building Lives to Independence & Self Sufficiency, helps families living in Richmond's public housing communities realize their dream of becoming self-sufficient by building wealth, self-esteem and giving them hope, said Ms. Smith, who has known and worked with Ms. Wilkerson since 2015.
"This vehicle was awarded to Kiocia to help her get around town," said Ms. Smith. "With the help of David Williams, DLW Veterans Outreach and some of his supporters, they saw a need in helping this young lady. So this became a special project for them by reaching outside of their veterans support mission to help someone they saw accomplishing things when the odds were against her."
Mr. Williams agreed, saying that hearing about Ms. Wilkerson's perseverance led him to launch a quiet campaign to help her with transportation.
"I marvel at people who continue to strive and do things for themselves," Mr. Williams said. "It reminds me of my father who used to say, 'It ain't always gonna be that way.' "
Mr. Williams quickly went to work, securing the assistance of Paul Tumelaire who works at a veterans mobility center on Midlothian Turnpike. The center specializes in handicap-accessible vehicles and sometimes has vehicle giveaways, Mr. Williams said. Although no vehicles were available, Mr. Tumelaire promised Mr. Williams that he would look out for a vehicle suitable for Ms. Wilkerson's needs.
Meanwhile, Mr. Williams reached out to donors willing to help purchase a car for Ms. Wilkerson. Six months later, he had $6,800 in donations from 15 people, enough to purchase the Kia Optima for $6,500.
Ms. Wilkerson is thrilled and thankful for the vehicle and her newfound independence.
"I have advantages and opportunities that I didn't have as a bus rider," Ms. Wilkerson said in a recent interview. "I am able to go grocery shopping, take or pick up my kids from school and it cuts down on travel time to work.