Personality: Jer'Mykeal D. McCoy
Spotlight on president-elect of the Urban League of Greater Richmond Young Professionals
6/21/2018, 3:39 p.m.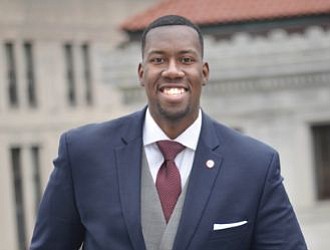 Mission of Urban League of Greater Richmond Young Professionals: A volunteer auxiliary of the National Urban League that targets young professionals to empower their communities and change lives through the Urban League Movement.
Why I am excited about the YP: Because I'm in a position to lead an amazing group of young people who want to make Richmond a better place.
Vision for YP: To empower our members to better Richmond by growing membership, community engagement and returning the Urban League affiliate.
How to become a YP member: Submit application and $60 membership fee. Membership requirements:
• Age 21 to 45
• Be in good financial standing
• Volunteer at community service events
• Serve on a committee
• Support YP social and fundraising events
YP's No. 1 challenge: Bringing back the Urban League affiliate to Richmond.
How I plan to meet it: By working with the steering committee to draft a plan of action to re-establish the affiliate.

How I start the day: With gratitude for another day of life, read scripture and recite daily affirmations.
Quality I most admire in another person: Their ability to love and serve others.
Definition of a leader: Someone who inspires others to act based on their character and actions.
Three words that best describe me: Adaptable, compassionate and diligent.
Something I love to do that most people would never imagine: Salsa dancing.
A quote I am inspired by: "But I will say it betrays a poverty of ambition if all you think about is what goods you can buy instead of what good you can do." — former President Barack Obama.
A perfect day for me is: A tailgate for a Tennessee State University football game.
Best late-night snack: Cereal.
How I unwind: With good friends, music and food.
The top of my "to do" list is: The latest issue at my new home.
Person who influenced me the most: Francis Calloway Parks, my late great-aunt.
Book that influenced me the most: "The Mis-Education of the Negro" by Dr. Carter G. Woodson.
What I'm reading now: "The Color of Money: Black Banking and the Racial Wealth Gap" by Mehrsa Baradaran.
Next goal: To set YP meetings to ensure a smooth transition of leadership.