After changing his life, Neblett hopes to change others
Fred Jeter | 6/30/2018, 9:30 a.m.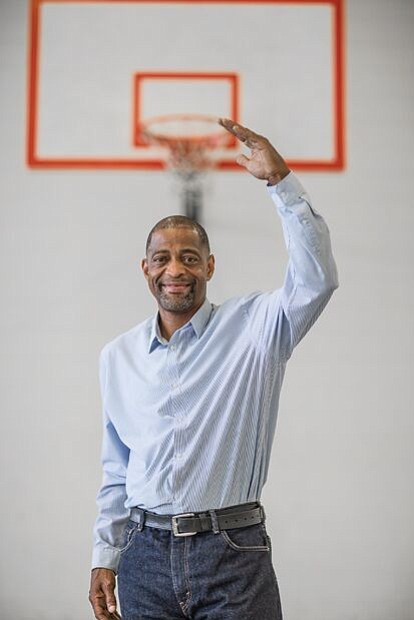 Raymond Neblett, the former basketball standout who once took a costly wrong turn, continues to make up for lost time.
The Jefferson-Huguenot-Wythe High School graduate and former Virginia Union University guard in the 1980s is making final preparations for the 10th Ray Neblett Inner-City Youth Basketball Camp.
More than 300 youths are expected for a steady weeklong menu of basketball and, more importantly, life lessons.
"We call it the principles of life," said Neblett, 53, who lists his profession as self employed.
"This camp has galvanized the whole community."
To make ends meet, Neblett offers private basketball lessons and has served as a cook at various local restaurants.
Known best for his outside shooting and relentless defense, Neblett boasts an impressive résumé from both high school and college.
Playing under Coach Bob Booker at Jefferson-Huguenot-Wythe, the slender, 6-foot Neblett earned second-team, All-Metro honors in 1982-83 while playing with the likes of Alvin Lee, Peter Woolfolk and Greg Williams.
He enrolled at VUU in 1983-84, where he roomed with All-American Charles Oakely and was part of four NCAA qualifiers. His VUU teammates included other Richmond city stars such as Williams, Jerry Hargrove and Eric Thompson.
While at VUU, Coach Dave Robbins even named a full-court pressure defense in Neblett's honor, called "Mad Dog."
"As a little kid growing up at Calhoun and Gilpin Court, I had to make my name playing defense," Neblett recalled. "I went out there and practically broke my neck. If I didn't, no one would pick me."
After Neblett's career ended at VUU, he fell into depression, substance abuse and hard times.
"I saw others going pro, having things I wanted but didn't have," he recalled.
Then came the mistake of his life — an ill-fated robbery.
"One bonehead bad night turned into 14 bad, bad years," he said of his incarceration.
Neblett once proudly wore jersey No. 25 at Jefferson-Huguenot-Wythe and at VUU. Then for 14 years, he was prisoner No. 196453 behind bars.
"I've never kept it a secret. You can Google my name. Everyone knows my story."
It's a story, however, that seems speeding toward a happy ending.
His older son, Raymond Loney, was just a small child when Neblett went to prison.
"Raymond was 4 years old when I left him on the street," recalled Neblett. "When I got out, he was a freshman at Fordham (University)."
Loney and Neblett have reconciled and now work together with the Inner City Youth Basketball Camp.
Neblett's younger son, Jeremiah, is full of energy and never far from his dad's doting care.
The ever-chatty Neblett, who never met a stranger, is open about his good times and the bad. He has learned the painful way from his past. Now he's determined to use that experience to guide young people toward a brighter future.
A few youngsters at the basketball camp will become basketball stars. Most won't.
So here's the deal, and it's the real deal, according to Neblett:
"At the end of camp, we give out trophies," Neblett explained. "But they're not basketball trophies. They're character trophies."