Personality: Amy 'MiMi' Wentz
Spotlight on co-founder of Richmond Black Restaurant Experience
3/1/2018, 1:36 a.m.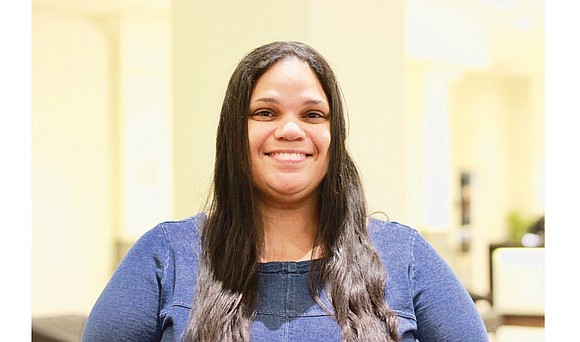 Her daughter Zoe, 3, has been a constant volunteer companion with her mother.
"The city knows her," Ms. Wentz says. "They see her before they see me. Zoe says, 'Zoe's here and my mother is not far behind.'
"Anything that we can do to help improve the Richmond experience for our citizens or people coming to see the city, we are all for that."
Meet foodie experience advocate and this week's Personality, Amy "MiMi" Wentz
Occupation: Senior systems analyst, helping to develop logistics and transportation software for the U.S. Department of Defense.
Current community involvement: Co-founder of Richmond Black Restaurant Experience.
Other community involvement: Member, Mayor's Education Compact; advisory board, Unbound RVA; board member, Stay RVA; board member, NOLEF Turns; member, Alternatives to Incarceration Commission; and founder, Black RVA.
Date and place of birth: Nov. 2 in Washington.
Current residence: Adams Park in Richmond's South Side.
Education: Proud graduate of Huguenot High School and an Army veteran.
Family: Daughters, Jasmine, 19, who attends Virginia Commonwealth University, and Zoe, 3.
Importance of Richmond Black Restaurant Experience: Richmond's dining scene is gaining national attention and it's important that we counter the economic disparity within minority-owned businesses with fun and interactive solutions that engage, excite and ignite a deeper understanding and love of Richmond culture and cuisine.
Number of restaurants participating this year: 29.
Richmond Black Restaurant Experience events: There are events happening each night of the week, but our key events are "Mobile Soul Sunday" noon to 5 p.m. Sunday, March 4, at Abner Clay Park in Jackson Ward, and "Stick A Fork In It!," our culminating event at Main Street Station noon to 5 p.m. on Sunday, March 11. For a full listing, go to www.vablackrestaurantexperience.com.
Other cities that have Black Restaurant Week: Memphis, Tenn., Atlanta, Houston, St. Louis and more!
What community means to me: Community isn't just a group of people living in the same area, but the people we learn from, get support from and work with to make "living" a positive experience for all, no matter your circumstance.
Favorite restaurant: Now you know I can't say that, but each of our participating locations has a dish that I love.
Favorite menu item: Chicken and dumplings.
Favorite chef/cook: Chef MaMusu. It's not about her food; she feeds the soul.
How I start the day: Sunny, with no chance of rain. Every day is a new beginning and a chance to improve.
A perfect day for me is: Seeing other people happy.
How I unwind: Attending the Art of Noise RVA by DJ Lonnie B. Music makes everything better.
Hobby: Volunteering.
Best late-night snack: Grilled cheese sandwich.
Biggest life lesson I've learned from my parents: If you make a commitment, follow through on it.
Three words that best describe me: Thankful, committed, loved.
Person who influenced me the most: My sister, Karen Lowen.
Book that influenced me the most: "The Secret" by Rhonda Byrne.
What I'm reading now: "The Last Black Unicorn" by Tiffany Haddish.
My next goal: "Truth Be Told" is a passion project involving black Richmonders over the age of 80. We have so much to learn from them and need to soak it in while we can.