Rev. Billy Graham, evangelist, presidential confidante and supporter of Dr. King, to be laid to rest March 2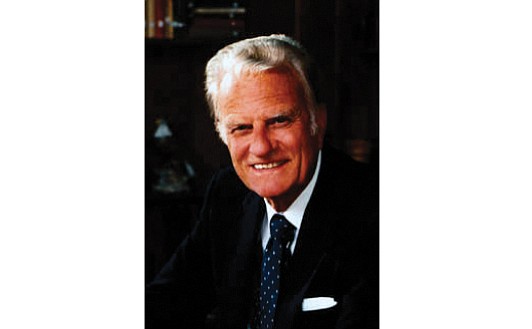 Free Press wire report
CHARLOTTE, N.C.
Thousands of people from all walks of life filed slowly past the casket of the Rev. Billy Graham on Monday to pay their final respects to a man who reached millions with his message of salvation through Jesus Christ.
The heavy rain overnight tapered to a light, occasional drizzle around 8 a.m. Monday when the doors opened to the boyhood home of the famed evangelist, who died Wednesday, Feb. 21, 2018, at age 99.
Rev. Graham built evangelicalism into a force that rivaled liberal Protestantism and Roman Catholicism in the United States. Called "America's Pastor," he eventually would preach to an estimated 210 million people in person with his rallies that he called "crusades" and touched many more around the world through his pioneering use of primetime telecasts, network radio, daily newspaper columns, evangelistic films and satellite TV hookups. He became a confidante of presidents and other leaders.
Mourners of all races, young and old, some in suits and some in T-shirts and flip-flops, walked through the parlor where his closed casket lay on a black pedestal. They walked past family photos and a cross made of white lilies to see the simple plywood container made by prison inmates.
And at the door for the first few hours was Rev. Graham's grandson, Roy Graham, shaking the hand of every person who came to pay respects to his grandfather.
"I just wanted to tell them how much I appreciated the love for my family,'" Mr. Graham said.
And they responded with stories. Mr. Graham said what moved him the most Monday were the dozens who paused and told him the exact moment and place Rev. Graham came into their lives through his hundreds of crusades around the world.
Cecily Turner is one of them. Her mother was at Rev. Graham's 1957 New York crusade and she said he led her mother to salvation that day.
"I know she is in heaven thanking him right now," she said.
Mother passed her faith on to daughter, and Ms. Turner said she passed it down to her five children and four great-grandchildren.
"That's an amazing thing," she said.
Born in 1918 on the family farm near Charlotte, Rev. Graham grew up in a South strictly divided by race. He had a complicated role in race relations, particularly when confronting segregation in his native South.
In Alabama for one of his evangelistic crusades in 1965, just months after passage of the Civil Rights Act, Rev. Graham talked about the Confederate flag flying "proudly" atop the state Capitol and the fact that both of his grandfathers served as rebel soldiers, according to a recording available on his ministry's website. He didn't address the evils of segregation directly, talking instead about God's unique power to change people and communities.
But Rev. Graham also drew scorn from segregationists for speaking to racially mixed crowds and allowing black people and white people to mingle during the trademark altar call that ended each service.
Dr. Martin Luther King Jr. was an ally and publicly credited Rev. Graham with helping the cause of civil rights.
Rev. Graham was an internationally known preacher traveling the world when Dr. King first gained notice by leading a bus boycott against segregation in Montgomery, Ala., in1955. Rev. Graham embraced Dr. King's work, and the two appeared on stage together during Rev. Graham's crusade at Madison Square Garden in New York City in 1957. Rev. Graham paid the jail bond following Dr. King's arrest during demonstrations in Albany, Ga., in 1962.
Following the racial violence of "Bloody Sunday" in Selma, Ala., in 1965 and partly at the suggestion of President Lyndon B. Johnson, Rev. Graham toured Alabama, speaking to racially mixed crowds. It was during that trip that he recorded the message in which he spoke wistfully of his Confederate roots and God's ability to heal.
While Rev. Graham didn't march with Dr. King in Selma, the Atlanta-based King Center for Non-violent Social Change credits Rev. Graham with evolving from an early, noncommittal stance on race following the U.S. Supreme Court's 1954 decision outlawing segregation in public schools.
Rev. Graham had regrets. In an interview with The Associated Press in 2005, when he held his final crusade, Rev. Graham said he wished he had fought for civil rights more forcefully. In particular, he lamented not joining Dr. King and other pastors at voting rights marches in Selma, Ala., in 1965.
"I think I made a mistake when I didn't go to Selma," Rev. Graham said. "I would like to have done more."
Still, Rev. Graham helped ease the region's transition away from legalized segregation, said Steven P. Miller, a scholar who has written about Rev. Graham. Rev. Graham had a "huge base" of white support in the Bible Belt, Mr. Miller said, and those people listened to him.
"He could reach that audience as a native Southerner, but also because he spoke a familiar evangelical language — and because he was obviously not an activist," said Mr. Miller, author of the book "Billy Graham and the Rise of the Republican South."
"In this sense, he provided a familiarly Christian path for some white Southerners to back away from Jim Crow," Mr. Miller said.
The Rev. William J. Barber II of North Carolina, a civil rights leader who is leading a new national Poor People's Campaign, credited Rev. Graham with meeting with Dr. King and agreeing to challenge segregation, an act Rev. Graham pursued through preaching reconciliation and peace rather than marching.
"Billy Graham inherited a faith in the American South that had accommodated itself to white supremacy, but he demonstrated a willingness to change and turn toward the truth," Rev. Barber said in a Facebook post after Rev. Graham's death. "He helped to tear down walls of segregation, not build them up."
During the 2005 interview with The Associated Press, Rev. Graham also apologized for making anti-Semitic remarks that were captured on the White House taping system installed by President Richard Nixon, who relied on Rev. Graham for both spiritual needs and political cover. The relationship between the two men helped turn the South into the solidly Republican territory it is today, Mr. Miller argues in his book.
Rev. Barber said Rev. Graham also eschewed the religious right movement, which many Southern evangelicals embraced on the way toward increasing their political power after the Nixon years.
"His life was about following Jesus, and he knew that meant an ongoing commitment to be changed by love," Rev. Barber said.
Following public viewings Monday and Tuesday at Rev. Graham's Charlotte library on the campus of the Billy Graham Evangelistic Association, his body was taken to the U.S. Capitol, where he was to lie in honor on Wednesday and Thursday. The last private citizen to lie in honor at the U.S. Capitol Rotunda was civil rights icon Rosa Parks in 2005.

Rev. Graham's funeral is Friday, March 2, at the Billy Graham Library in Charlotte, and President Donald Trump said he will attend. Invitations were sent to all former U.S. presidents.
About 2,000 people are expected at the invitation-only funeral that will be held in a giant tent as a nod to Rev. Graham's 1949 Los Angeles crusade. That revival, which Rev. Graham said propelled him to worldwide fame, was held in a circus tent dubbed the "Canvas Cathedral."
His coffin was built by inmates at the Louisiana State Penitentiary in Angola, La., who typically construct caskets for fellow prisoners who cannot afford one.
Rev. Graham's son, the Rev. Franklin Graham, toured the prison in 2005 and said he was so moved by the simple boxes lined with a mattress pad and a wooden cross nailed to the top that he asked for ones for his mother and father.
Rev. Graham will be buried beside his wife, Ruth, who died in 2007, at the foot of a cross-shaped walkway at his library in Charlotte. His tombstone will read "Preacher of the Gospel of the Lord Jesus Christ."