Rev. Billy Graham, evangelist, presidential confidante and supporter of Dr. King, to be laid to rest March 2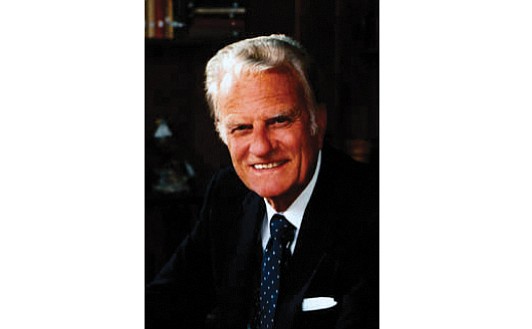 Dr. Martin Luther King Jr. was an ally and publicly credited Rev. Graham with helping the cause of civil rights.
Rev. Graham was an internationally known preacher traveling the world when Dr. King first gained notice by leading a bus boycott against segregation in Montgomery, Ala., in1955. Rev. Graham embraced Dr. King's work, and the two appeared on stage together during Rev. Graham's crusade at Madison Square Garden in New York City in 1957. Rev. Graham paid the jail bond following Dr. King's arrest during demonstrations in Albany, Ga., in 1962.
Following the racial violence of "Bloody Sunday" in Selma, Ala., in 1965 and partly at the suggestion of President Lyndon B. Johnson, Rev. Graham toured Alabama, speaking to racially mixed crowds. It was during that trip that he recorded the message in which he spoke wistfully of his Confederate roots and God's ability to heal.
While Rev. Graham didn't march with Dr. King in Selma, the Atlanta-based King Center for Non-violent Social Change credits Rev. Graham with evolving from an early, noncommittal stance on race following the U.S. Supreme Court's 1954 decision outlawing segregation in public schools.
Rev. Graham had regrets. In an interview with The Associated Press in 2005, when he held his final crusade, Rev. Graham said he wished he had fought for civil rights more forcefully. In particular, he lamented not joining Dr. King and other pastors at voting rights marches in Selma, Ala., in 1965.
"I think I made a mistake when I didn't go to Selma," Rev. Graham said. "I would like to have done more."
Still, Rev. Graham helped ease the region's transition away from legalized segregation, said Steven P. Miller, a scholar who has written about Rev. Graham. Rev. Graham had a "huge base" of white support in the Bible Belt, Mr. Miller said, and those people listened to him.
"He could reach that audience as a native Southerner, but also because he spoke a familiar evangelical language — and because he was obviously not an activist," said Mr. Miller, author of the book "Billy Graham and the Rise of the Republican South."
"In this sense, he provided a familiarly Christian path for some white Southerners to back away from Jim Crow," Mr. Miller said.
The Rev. William J. Barber II of North Carolina, a civil rights leader who is leading a new national Poor People's Campaign, credited Rev. Graham with meeting with Dr. King and agreeing to challenge segregation, an act Rev. Graham pursued through preaching reconciliation and peace rather than marching.
"Billy Graham inherited a faith in the American South that had accommodated itself to white supremacy, but he demonstrated a willingness to change and turn toward the truth," Rev. Barber said in a Facebook post after Rev. Graham's death. "He helped to tear down walls of segregation, not build them up."
During the 2005 interview with The Associated Press, Rev. Graham also apologized for making anti-Semitic remarks that were captured on the White House taping system installed by President Richard Nixon, who relied on Rev. Graham for both spiritual needs and political cover. The relationship between the two men helped turn the South into the solidly Republican territory it is today, Mr. Miller argues in his book.