Black churches across nation host screenings of 'Black Panther'
3/10/2018, 8:21 a.m.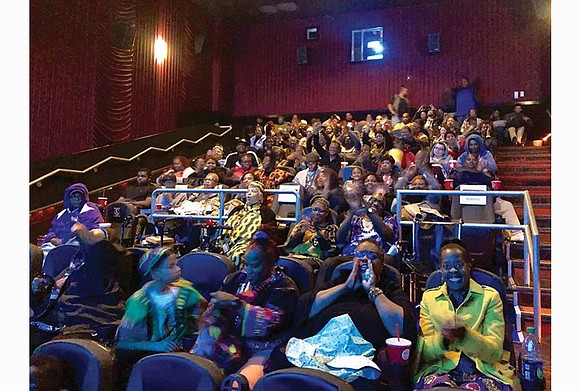 The Rev. Hodari Williams, pastor of New Life Presbyterian Church in College Park, Ga., planned a sermon series related to the movie after attending a Feb. 15 screening organized by his predominantly African-American church. Among his themes is not keeping your gifts to yourself. As Wakandans learned in the movie, he hopes his church will "make our resources the resources of the community."
Rev. Williams, who wore a blue and white dashiki from Ghana when he saw the movie, said he also wanted young people to gain a sense of the beauty of the African continent.
"In our history books, it has been taught that it's a land of savages and people who have no regard for humanity or God," said the pastor, whose church is affiliated with the Presbyterian Church (USA). "This movie conveyed a deep connection to spirituality and the ancestors and how one cannot lead without that kind of spirituality. (It also had) a superhero … very in tune with the ancestors and the creator of the universe."
Leaders of predominantly black churches were not the only people of faith who wanted to get young people into the theaters for the popular movie.
The Rev. Jacqui Lewis, the African-American pastor of Middle Collegiate Church in New York City, said her congregation's white youth director took a multicultural group of teens to see "Black Panther" on Feb. 15 and they have since used Trinity United Church of Christ's study guide.
"You know how teenagers are all about the superheroes, the kind of projection of the good we hope is in ourselves out on the screen," said Rev. Lewis. "For that to be larger-than-life black folk was moving to our white children as well as our black children."
Khaled Beydoun, an associate law professor at the University of Detroit Mercy School of Law, treated a group of 17 Muslim students to the movie on Feb. 23. The Muslim educator said "they were totally enthralled by the film."
Given the significant percentage of Muslims in this country who are black, his goal was to help young non-black Muslims bridge divides in a diverse city where schools are often segregated.
"If these young Arab, Muslim kids begin to see black people as members of their own, I think that can do a lot to erode racism in places like Detroit, but also nationally," said Mr. Beydoun, author of the forthcoming "American Islamophobia."
Xavier, of the AME Zion church in North Carolina, also noticed the movie's universal themes of common humanity, which he said reminded him of the bond he has between "my brother in Christ, my sister in Christ" in his youth group.
"In my youth group, we loved the movie," said Xavier, who planned to see it again. "It was the best movie I've seen."