Personality: Gwendolyn D. Douglas
Spotlight on president of American Business Women's Association, Cavalier Chapter
3/10/2018, 7:43 a.m.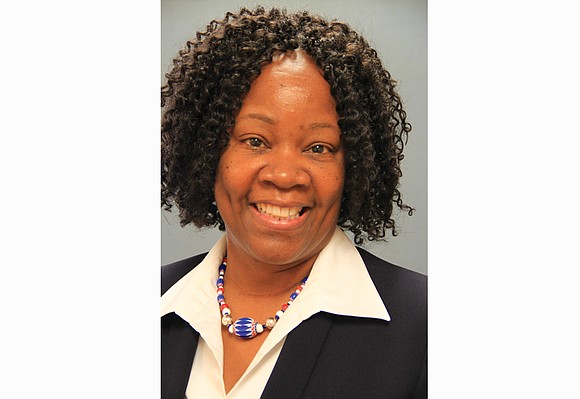 Ms. Douglas also is involved in the ministry at Apostolic Faith Church on Chamberlayne Avenue. She gave her first sermon at age 17 in Brooklyn, N.Y.
Meet businesswoman, ABWA chapter president and this week's Personality, Gwendolyn D. Douglas:
Occupation: Executive assistant, Richmond Commonwealth's Attorney's Office.
Date and place of birth: Nov. 28 in Brooklyn, N.Y.
Current residence: Glen Allen.
Education: Bachelor's degree, Pace University, and certificate in project management, Project Management Institute.
Family: Two children, Tyler and Tiana Douglas.
ABWA is: The American Business Women's Association founded by Mr. Hiliary A. Bufton, Jr., a Kansas City, Mo., businessman on Sept. 22, 1949.
Its mission: To bring together businesswomen of diverse occupations and to provide opportunities for them to help themselves and others grow personally and professionally through leadership, education, networking support and national recognition.
Profile of chapter members: Business owners, businesswomen, retirees and business students.
Why the Cavalier Chapter: During the 1970s, the American Business Women's Association had such a great impact on working women in Richmond. The interest in membership grew locally, and national encouraged the chartering of new chapters. As such, the Cavalier Chapter was installed on June 3, 1971, with more than 90 charter members.
When I was elected chapter president: May 2017 for my current term.
The Hattitude RVA Awards Luncheon: Celebrates Women's History Month and honors local sung and unsung women who positively impact our community.
Why the name Hattitude and its relation to business: Hattitude accurately depicts the radiance, courage and confidence that fills the room when women come together adorned with their crowns. It positively portrays the attitude of celebration for "handling your business" and rewarding a job well done!
Chapter's No. 1 challenge: Securing and maintaining funds to develop women by providing educational opportunities to attend conferences, obtain quality speakers/facilitators for our meetings and to support and grow our student membership.

How I plan to meet it: I will continue to seek opportunities to obtain corporate sponsors; provide programming that will encourage and motivate the current membership (retain and revitalize); and remain in a recruiting stage (adult and student membership).
Status of businesses owned by women and African-American women in Virginia: According to the Virginia Department of Small Business and Supplier Diversity, as of March 2, there are 3,841 certified women-owned businesses and 716 businesses owned by African-American women in Virginia.

Your response to this: According to these numbers, there are 716 certified African-American women-owned businesses in Virginia, which amounts to less than 19 percent of the total women-owned businesses in Virginia. I suspect the number is in the low single digits if we narrow it down to the city of Richmond. There are opportunities for training and funding available for women who would like to start their own business. There is no better time than now.
Advice to aspiring business owners: Surround yourself with those already accomplished and those seeking to accomplish what you desire to accomplish. Keep up with technology and pay attention to your elders; they have valuable tools that you can use.