Play it forward
Richmond Flying Squirrels go to bat for the community
3/23/2018, 7:22 a.m.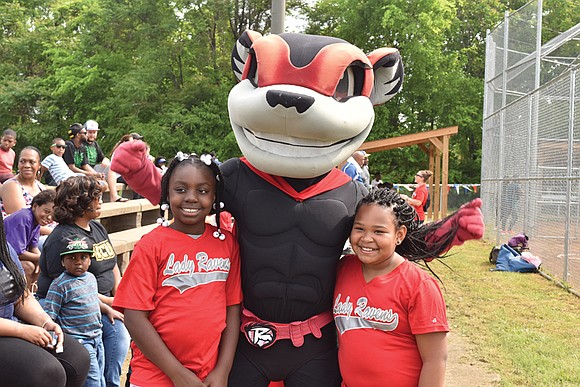 The concept of the tournament is to "give the kids in the city and counties a chance to play together. We're all neighbors," he said. "We should all get to know and respect each other, and you can do that on the field." 
The Squirrels' outreach efforts are inclusive of everyone in the Greater Richmond community, Mr. Parnell said. Through its nonprofit Flying Squirrels Charities, the team, in partnership with the Richmond Department of Parks, Recreation and Community Facilities, has raised "hundreds of thousands of dollars," said Mr. Parnell, and rebuilt and refurbished baseball fields around the city. Among them are fields in largely African-American communities, including Hotchkiss Field in North Side and Blackwell Community Center in South Side.
The project, dubbed "Renovating Richmond's Recreation," includes 14 fields around the city.
The Squirrels also hosted a baseball glove drive, which yielded 600 youth gloves that were given to the city parks and recreation department to distribute to young players in the area.
In response to concerns from parents in the city who felt unsafe taking their children trick-or-treating in their neighborhoods, the Squirrels hosted "Squirreloween" for the first time a few years back, which drew a crowd of more than 500 for free candy, Halloween-themed games and costume competitions. It has become a smashing success and one of the most popular events of the year, Mr. Parnell said.
"Grown men and women came up to me after the first Squirreloween, thanking me and the team because they were able to make memories with their families. That's what it's all about for us."
The future is bright for Richmond's home team, one of just 160 minor league baseball teams in the country. The Flying Squirrels, a double-A team, is affiliated with the San Francisco Giants.
A new presence will be on the field this season as the Flying Squirrels welcome Willie Harris, its first African-American manager.
Mr. Harris, a 39-year-old native of Cairo, Ga., played in more than 1,000 big league games with Baltimore, the Chicago White Sox, Boston, Atlanta, Washington, the New York Mets and Cincinnati. In 2005, he was a second baseman and outfielder with the World Series champion Chicago White Sox.
He is familiar with Richmond, having played for the Richmond Braves in 2007.
Next year, the Squirrels will host the Eastern League All-Star Game, the first time the event has come to Richmond since 1992.
Mr. Parnell said the team's overarching commitment to the community will remain as long as the team does. 
"We're going to keep using the resources we have here at the ballfield to help people make memories," he said. "And we're going to keep working off the field to make Richmond the best city it can possibly be."