School Board approves Kamras' smaller, better-paid cabinet
3/23/2018, 8:16 a.m.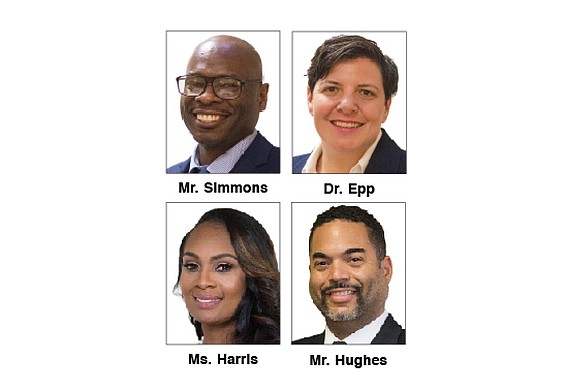 Chief Engagement Officer – Shadae Thomas Harris, a former fourth-grade teacher in Boston Public Schools and a principal in Springfield Public Schools in Massachusetts.

Ms. Harris is completing her doctorate in educational leadership at Harvard University, where she has worked on education projects involving Richmond Public Schools, the Virginia Department of Juvenile Justice and the Virginia Governor's Children's Cabinet. She is a former Governor's Fellow.
Ms. Harris will work with community groups, manage outreach to RPS families and serve as the school system's liaison to city officials. Her starting pay: $175,250 a year.
Chief of Schools – Harry Hughes, a former teacher and principal who most recently served as an instructional superintendent for the Washington Public Schools and oversaw 11 elementary schools.
He will oversee the four people Mr. Kamras is proposing to hire to manage 44 schools, including two at the elementary level, one at the middle school level and one at the high school level.
His starting pay: $180,547 a year, a boost from his D.C. salary of about $152,000 a year.
Chief of Operations – Darin Simmons Jr., a former teacher who most recently worked for Accenture PLC, an Ireland-based business consulting firm and previously led D.C. Public Schools' human resources operations.
He will oversee both facilities and RPS' finance and budget offices. His starting pay: $180,547 a year.
The chief of staff, Ms. Hudacsko, who previously worked with Mr. Kamras in Washington, is working to coordinate operations and oversee communications. Her starting pay: $180,547 a year, or about $31,800 more than she made in Washington.
"I looked for several qualities for my cabinet," Mr. Kamras said. "I wanted to get the best professional in their field. I also looked for people who had a passion for young people and who would be able to manage a complex system and help it grow."
The superintendent said that "all of the cabinet members are committed to stay" through at least the five years of Mr. Kamras' initial contract.
The four new cabinet members are planning to arrive within the next three months; all are expected to be in place as of June 1, Mr. Kamras said.
Staff writer Jeremy M. Lazarus contributed to this report.