Robinson works to get Armstrong on track
Fred Jeter | 3/30/2018, 11:45 a.m.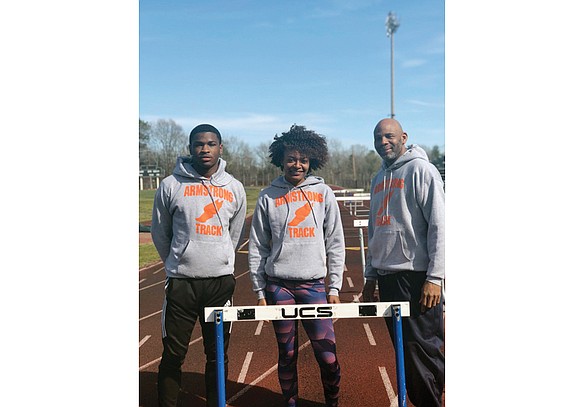 As a teenage athlete, Valentino Robinson ranked with top high hurdlers in Virginia.      
Now as coach, he faces a different type of hurdle.  
The first-year Armstrong High track and field head coach shares a problem common to inner-city schools. He has a few quality performers, for sure, like seniors Jordin Poindexter and Kendra Scott. But he would much prefer quality plus quantity on the Wildcats' roster.
"Kids don't come out like they used to. Our goal is to try and change that by advertising more, circulating fliers, pushing the history of the sport," said Coach Robinson, who succeeded Tim Crossin.
Coach Robinson's outdoor squad of just 10 boys and four girls could practically fit inside a minivan for away meets.
"It's hard to get a kid to buy into track," said Robinson. "They'll come out for a few days, see how hard it is … then they disappear."
Some history is in order.
Coach Robinson, known as "Tino," won several Central Region indoor and outdoor hurdling titles competing for Coach Jim Holdren at Thomas Jefferson High (Class of 1978).
He posted TJ record times of 7.1 for the 60-yard high hurdles (equivalent now to the 55 meters) indoors and 13.6 for the 120-yard highs (equivalent to the 110 meters).
Coach Robinson went on to run at Bakersfield College, Calif., and helped University of Kansas to a Big 8 Conference crown in 1982.
At the time he was hurdling for TJ, there were at least 50 athletes, male and female combined, competing for the Vikings.
"We had big squads," Coach Robinson recalled. "Track was a more popular sport then … attracted lots of football and basketball players."
Times have changed.
Many football players who might shine as sprinters, jumpers or shot put/discus throwers now are involved with offseason weight lifting or 7-on-7 competition and don't go out for track.
Basketball players who might be premier jumpers and hurdlers are often too focused on AAU travel hoops to make time for track.
"We'd sure like to get more of the football and basketball players," Coach Robinson said. "If they were to run track, they'd find out it helps them get in better shape for their primary sport.
"Also, you might take an average football player and turn them into a track champion."
The current Wildcats are short on numbers but long on accolades.
Poindexter won the State 3A indoor title at 55-meter hurdles this past winter, was third in the triple jump and fifth in the 300.
Scott was second at states in the 55-meter hurdles.
Also at states, Poindexter, Tye'shawn Steward, Tim Moore and Chris Wilkins placed third in the 4-x-200 relay.
Kendra Scott's older sister, Kaitlin, is a former Wildcats' standout now competing at Hampton University.
"Kaitlin is one we're trying to use as an example," Coach Robinson said. "Her success in winning a scholarship shows what track can do for you."
Coach Robinson isn't on his first coaching rodeo.
He served for nine years as a Wildcats assistant before Crossin left to coach at Appomattox High.
Coach Robinson was never one to let grass grow under his feet as an athlete, and he remains a hard man to keep pace with.
In addition to serving as AHS head coach for cross county, indoor and outdoor track, he works two jobs as a floor technician.
As for recruiting track and field candidates, Coach Robinson adds one more selling point:
"In most sports, kids get cut. We don't cut anyone. No one sits the bench. Everyone gets to compete."