Franklin Street travel lanes being revamped for bikes, 'floating parking'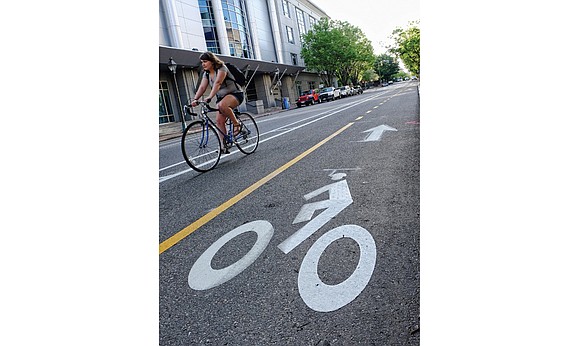 By Jeremy M. Lazarus
Congestion warning: Franklin Street in Downtown is about to shrink to one lane of traffic except during the morning rush hour from 6 to 9 a.m., when two travel lanes will be open.
City Hall is completing development of a two-way cycle lane on Franklin Street between Belvidere and 9th streets in the left curb lane. The city also is changing parking rules, resulting in fewer travel lanes for vehicles.
Because the bike lane will be in the curb lane previously used for parking, the new rules will allow cars and trucks to park most of the day in the left travel lane next to the bike lane, according to Jakob Helmboldt, city pedestrian, bicycle and trails coordinator
It's called "floating parking," with motorists allowed to use the lane unless someone is parked in it, he said.

Meanwhile, the right curb lane would be reserved for parking 24 hours a day, he said. Cars will not have to move during the morning rush hour, he said.
Currently, both curb lanes are open during the morning rush, providing four traffic lanes.
That means that the only open lane without any prospect of parked vehicles would be the right travel lane, according to Mr. Helmboldt's description.
This change was first envisioned in 2013 as the city developed a plan to expand bike lanes citywide.
In January 2015, Richmond City Council endorsed development of the cycle lane that at the time was to take one lane from Franklin and one lane from Main Street. Main Street was eliminated because the traffic was too heavy, Mr. Helmboldt said.
Many people and businesses in the area got the first inkling the project was underway when "No Parking" signs went up April 11, followed by workers painting the bike lanes.
Mr. Helmboldt said more striping remains to be done and new signs will be installed. The $370,000 project is scheduled to be completed by the end of May, he said.
So far, City Councilwoman Ellen F. Robertson, 6th District, and her aide, Kiya Stokes, said they have not received any complaints.
Councilwoman Kim B. Gray, who took office in 2017 after the plan was developed, worries the project could cause traffic congestion. She noted that southbound traffic on Belvidere Street, or U.S. 1, is now being routed into Downtown on Franklin Street as well as Marshall Street now that the left turn lane onto Broad Street has been removed.
She wonders how sensible it is for the city to reduce the number of travel lanes for cars and trucks on Franklin Street while at the same time making the street more of an entry for vehicles headed into Downtown.
"I'm not sure that works," she said.